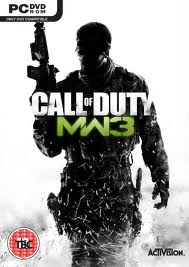 Game Info:
Call of Duty: Modern Warfare 3
Developed By: Infinity Ward, Sledgehammer Games
Published by: Activision, SquareEnix
Released: November 8th 2011
ESRB Rating: Mature for violence and language
Available On: PC, PS3, Xbox 360, Wii
Genre: FPS
Modes: Single/Multiplayer
Price: $40
The sequel to the critically acclaimed Modern Warfare 2 shattered sales records worldwide, the third consecutive time that the Call of Duty series has achieved this incredible feat. But is it really that great of a game?
Modern Warfare 3 starts off where the second game ended (as the main menu states), with you looking out of the eyes of Soap. Soap (Played by you in this scene) is injured and in critical condition and he is being rushed to a doctor by Captain Price. Then you're immediately thrown into another character's shoes, this time a Delta Force soldier named Frost (Delta Force is the equivalent of the British Special Air Service).  Frost is in the middle of a war zone in America. Russians have invaded and everything has gone to the dogs.  As the game progresses you play through numerous characters and the story is told brilliantly by making full use of this.
The game play isn't very different from previous Call of Duty titles. Controls are standard to most FPS's.  For instance the mouse is used to aim and "w", "s", "a" and "d" are used to walk around. The left mouse button is used for shooting and the right mouse button for aiming down the sights of your gun.  Single player is very cinematic and is emphasized with quick time events where you have to press a key/button quickly in succession or at a certain time to evade something, but these events don't happen often and are only found in single player missions.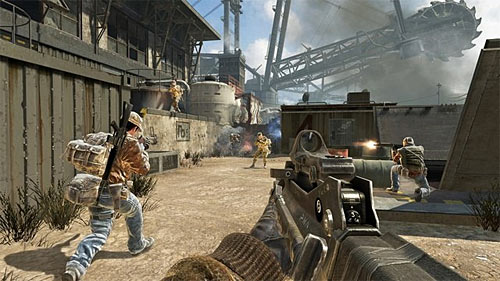 Highlights:
Strong Points: Engrossing story, immersive gameplay and great Multiplayer.
Weak Points: The very complicated LAN system.  Outdated graphics and sound.
Moral Warnings: Violence and death of innocents; swearing.
Yet again there is no health meter which adds a bit of realism to the game (Though this is not unique to the Call of Duty series). Blood spatter is displayed on the screen when your health drops and as it drops the spatter increases.  
In some of the single player missions you will be able to use Spectre gunships as well as UAVs as means of protection (these are also available in multiplayer as perks). Once again in multiplayer you gain experience as you play and kill more enemies and this experience gains you access to new perks and weapons. The multiplayer perks have become more diverse since there are now defensive as well as offensive perks and you have to choose which type of perks you want to use.  The multiplayer also uses a matchmaking system very similar to new games, but I would have preferred dedicated servers, as you have more freedom.  By freedom I mean that you can choose which type of match you want to play down to the weapons that are allowed in the match.  
Spec Ops also makes a return with the addition of survival mode where players face off against waves of enemies – either alone or online with friends.  There are also missions in Spec Ops, each with different objectives and some even add to the storyline of the game.  Two of the missions are only available with two players playing together online or via LAN.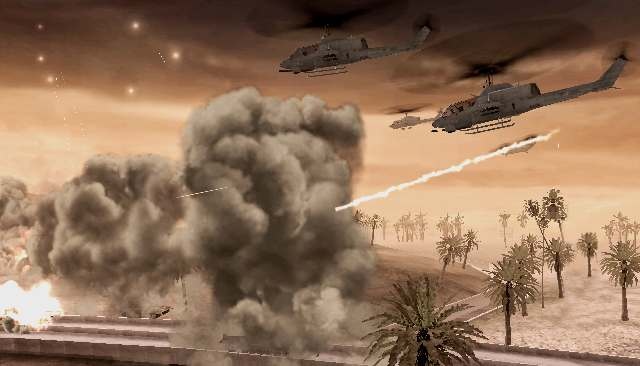 Score Breakdown:
Higher is better
(10/10 is perfect)
Game Score - 88%
Gameplay - 20/20
Graphics - 6/10
Sound - 8/10
Stability - 5/5
Controls 5/5

Morality Score - 56%
Violence - 0/10
Language - 2/10
Sexual Content - 8/10
Occult/Supernatural - 10/10
Cultural/Moral/Ethical - -8/10
Speaking of LAN the game does support it but all the players should be hardwired (not wireless) and have internet access.  Once you're on Steam, launch MW3 and go to multiplayer. Hopefully it will recognize the connection and you will be able to play with your friend.   
The game's graphics look very old and have not improved much from previous Call of Duty titles like Modern Warfare 2.  Clearly the producer's aim was not graphics, but instead game play and they have really proven that graphics don't make or break a game. Also with lower graphics than most new titles Modern Warfare 3 is almost playable on any PC without lag.  
The sound in the game wasn't the best I ever heard but it was great. Standing next to a tank when it fired had the same effect on you as a grenade exploding close by.  I liked the sound but it wasn't as great a feat as it could have been.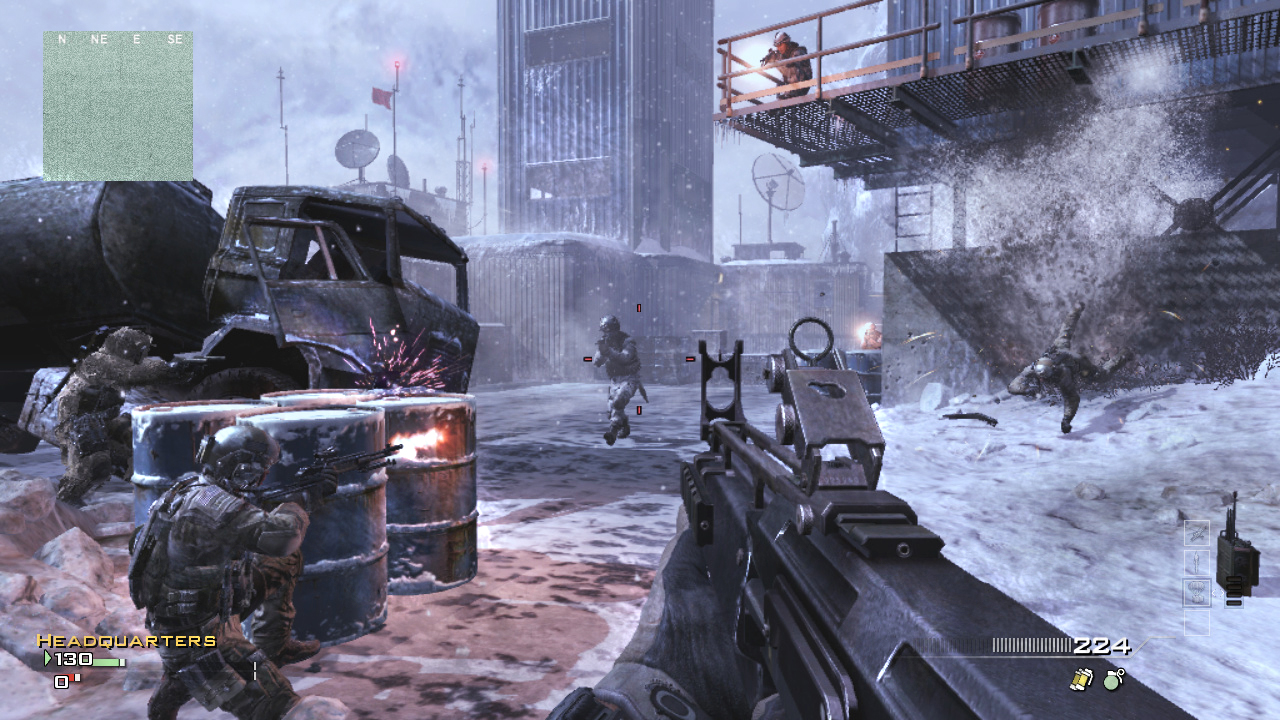 Modern Warfare 3 has a lot of violence and deserves its ESRB M/Pegi 18 rating – after all it is a war game.  Blood spatters all over the place when you shoot people and believe me, you kill a lot of people.  But on the other hand there is only blood spatter; there aren't any limbs flying off like they do in Nazi Zombies which makes it considerably less nauseating. 
Foul language is found in the game and the Lord's name is used in vain occasionally.  Sometimes I didn't realise there was swearing in the game because there were so many things happening (people shooting at you, gunfire and explosions), that these things blurred out the voices. The only reason I knew they were swearing was because I put the subtitles on so I could see what they were saying.  After playing through the game I didn't feel as offended with the amount of swearing as I did in other games in the same genre, like Gears of War, but I still felt that the swearing was unnecessary.  
There are some disturbing images in the game but it is optional and doesn't affect game play if you skip it. It also doesn't add to the story. Like for instance the death of countless innocents.  There is also a mission in spec ops where you see people being executed by Russian extremists and you can choose to save them or not, though if you don't succeed in saving them it will cost you stars in the end of the mission.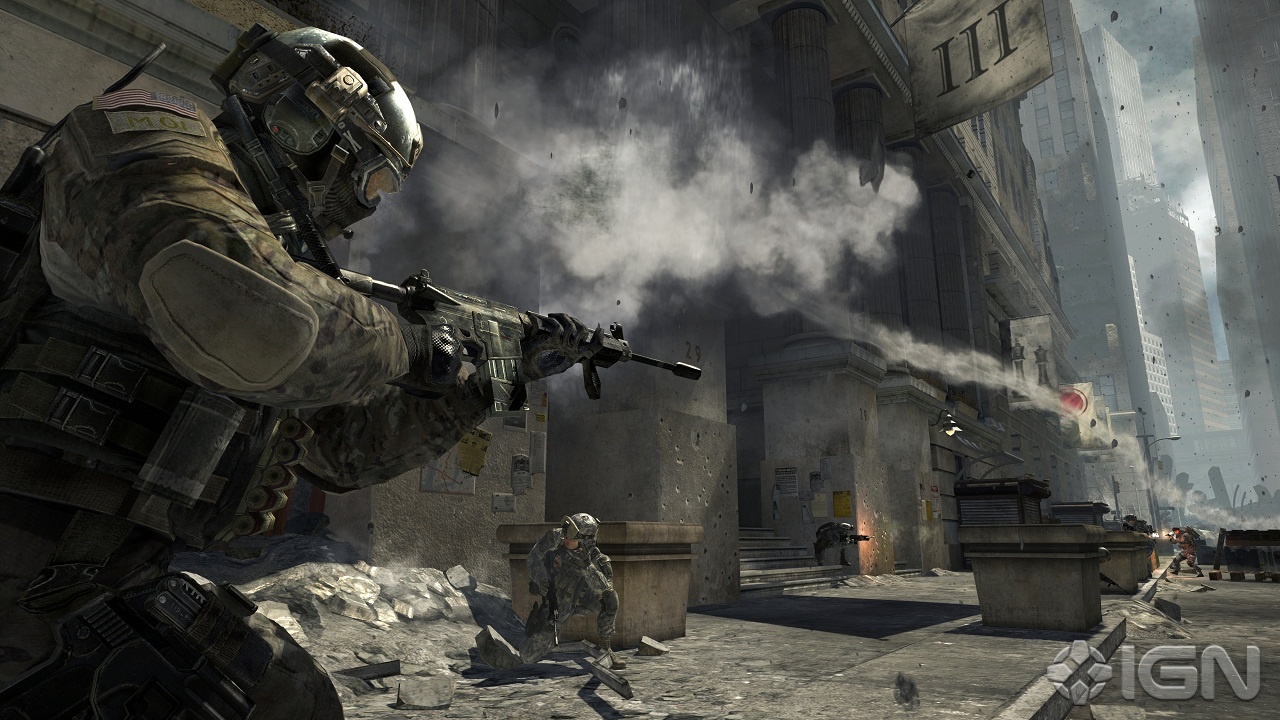 Another thing that I didn't approve of in the game was the dogs (and hyenas) that you had to kill in self defense.  I love dogs and found it cruel and unnecessary to have to kill animals.  I don't believe it adds to the experience of the game, but then also killing humans in countless numbers isn't quite what I would call appealing. 
The moral choices of the characters aren't always admirable, but do add to the story line and the overall experience. There are some statues in the game that show a bit of nudity but you have to be very observant to notice them.  Also there are emblems provided for players in multiplayer showing girls in bikinis. 
I wouldn't recommend this game to anyone under the age of 18 and definitely not if you find violence or cruelty offensive or if you don't like first person shooters.  I would recommend this game to anyone who is a fan of the series or anyone who loves first person shooters and hasn't played the series before.  The game play is spot on and the story line immersive, but unfortunately a bit short. Even though it has a few flaws and the graphics are not brilliant, it is a great game – especially when played multiplayer.