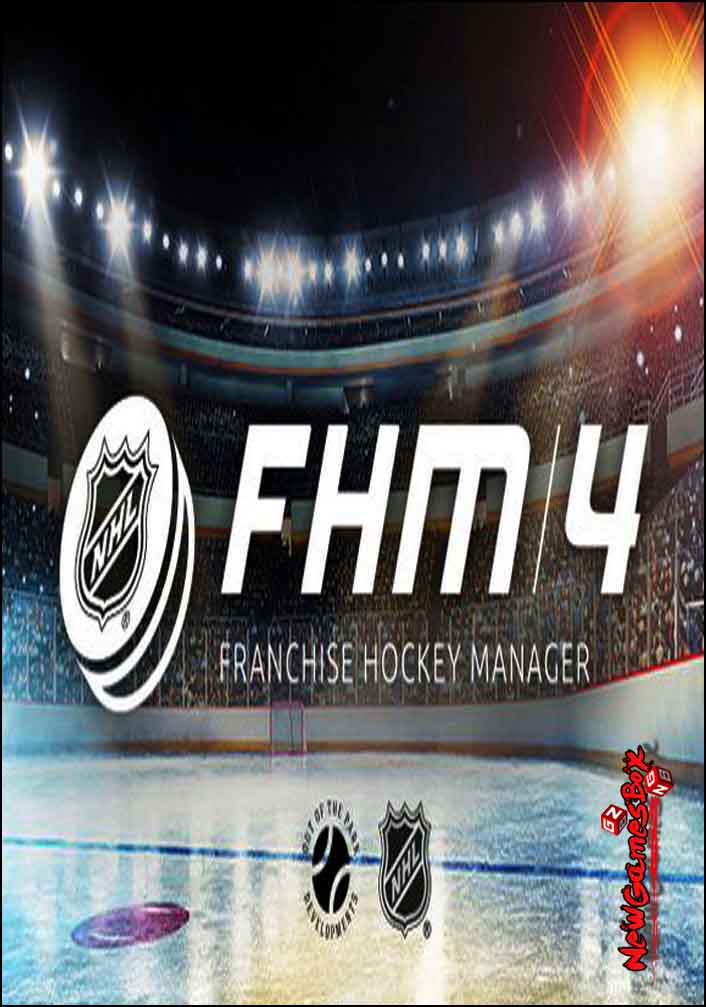 Game Info:
Franchise Hockey Manager 4
Developed by: Out Of The Park Developments
Published by: Out Of The Park Developments
ESRB Rating: Not Rated
Reviewed on: Windows 7 PC
Available on: macOS, Windows
Genre: Simulator, Sports
Number of Players: 1
Release Date: October 6, 2017
Price: $19.99
Thanks very much to Out Of The Park Developments for the review copy!
First, let's just get this out of the way...
LET'S GO CAPS!!!!!!!!!!!!!!!!!!
Now then...
When you're watching a hockey game or following the roster of a team during the offseason, have you ever felt like you could make far better decisions than the boneheads managing the team currently? Have you ever screamed at the TV, knowing your team desperately needs a line change but they won't just dump the puck in and make it happen? Have you ever wondered whether your team could have won the Stanley Cup if it were you making the decisions? Deep in your heart, have you always wanted to make the calls that fantasy hockey players wish they could? Well, here's your chance.
Franchise Hockey Manager 4 allows you to take full control of your favorite ice hockey team, whether it's an NHL team, minor league, one of the European leagues like Liiga in Finland or the Belarusian Extraleague. The options are dizzying. Even if you're choosing to play your favorite NHL team, incorporating the other leagues means fully fleshed out player experience and history.
In the standard game, you create your manager to represent you, and choose a team to start managing. You can go straight to the NHL if you like, but that's not a great idea for new players. With the vast array of choices for a starting team, there's more to the game experience to work your way through the career of your manager, moving from team to team and working your way up. For instance, you could start by running the Hershey Bears in the AHL and then eventually become the GM of the Washington Capitals.
You can also play in historical mode going back to 1917, playing a team through a hockey season from the past. Similarly are challenge modes. Can you get the 1947 Buffalo Sabres to the Stanley Cup?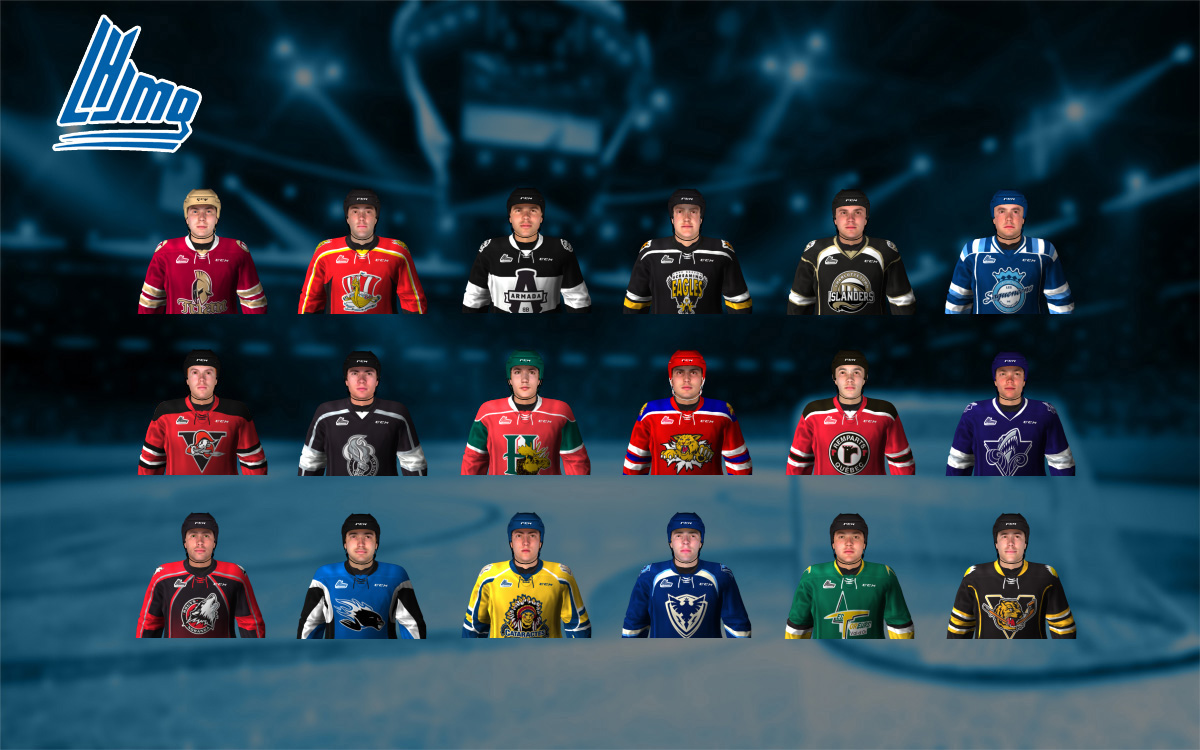 Highlights:
Strong Points: Plenty to do; highly detailed; authentic teams
Weak Points: Minimal sound and visuals
Moral Warnings: None
Once you're in the team display there is a lot to do. The team dashboard shows widgets for league news, standings, season schedule, offers and waivers and everything else related to managing the players, strategies, rosters and lines. Here you can draft players and view their individual stats.
The team view is where you can see all of the details for each player, not only their ability on the ice but their salary and contract length. Good players expect to be paid well, and that's something that may be an issue later if a player becomes very good and starts wondering how green the grass is on the other side.
If you drill down further into the display for the individual player you will find that each one has tendencies toward certain types of injuries, chemistry with particular players, what positions they can play and how happy they currently are. You can even assign players their jersey numbers, and they may get angry if they don't get the number they want.
The game allows for an insane level of control and detail, and if you're a fan of the kind of data analysis and micromanagement that often comes with playing in a fantasy sports league, this is your catnip. You can experiment with different lines, changing player positions, assign a team captain or anything else. This is where the game really shines, and allows for a level of control that is far beyond any hockey game I've ever played.
So after you've created your lines, picked out your strategy, made sure your players are all ready to go and dressed to play; it's game day. It's time to see your players in action and find out whether your management skills really are up to par.
And this is where FHM4 falls flat for me.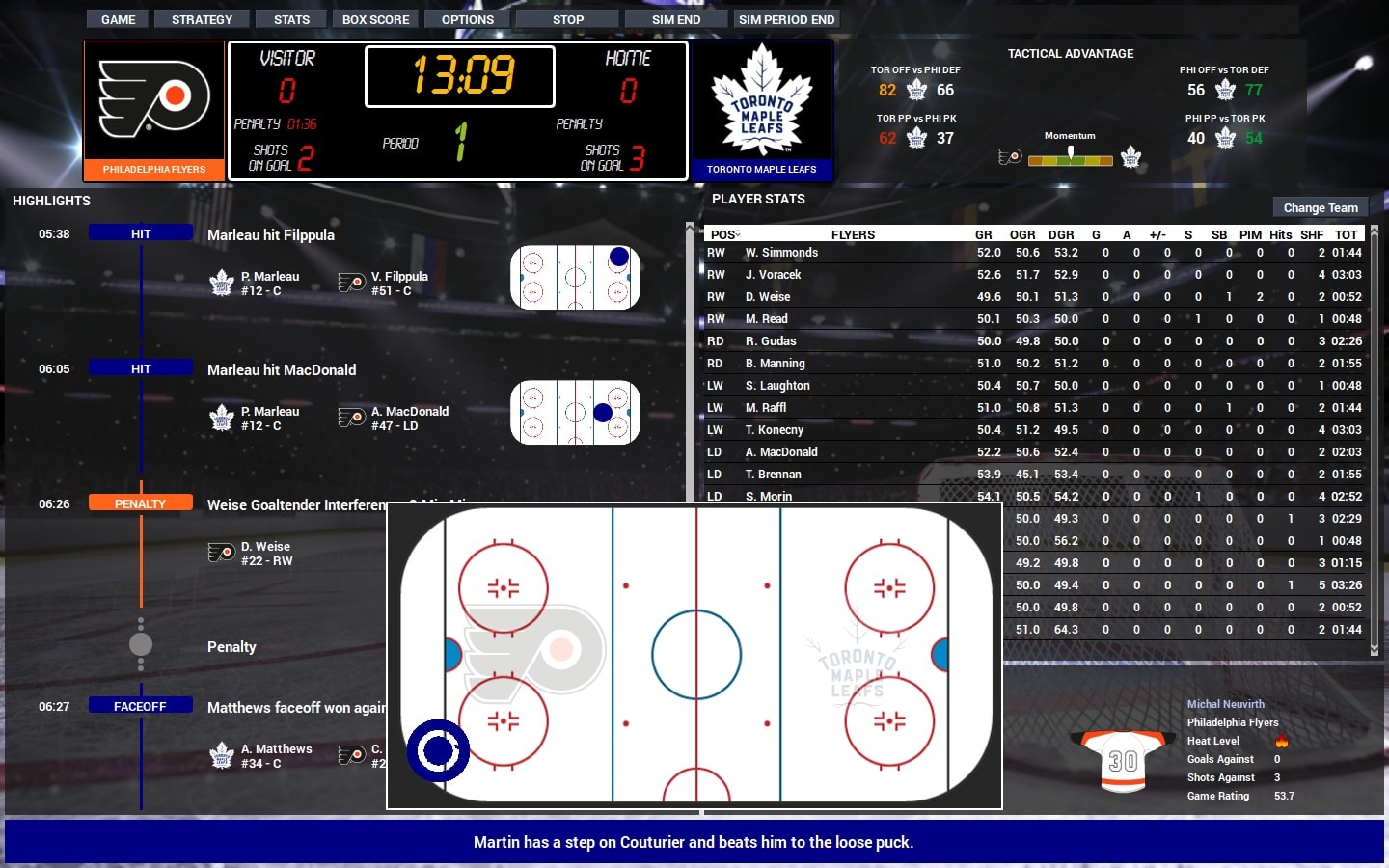 Score Breakdown:
Higher is better
(10/10 is perfect)
Game Score - 60%
Gameplay - 15/20
Graphics - 3/10
Sound - 4/10
Stability - 5/5
Controls - 3/5

Morality Score - 100%
Violence - 10/10
Language - 10/10
Sexual Content - 10/10
Occult/Supernatural - 10/10
Cultural/Moral/Ethical - 10/10
The game proceeds by displaying a scrolling list showing events like face-offs, shots on goal, turnovers, etc. Play pauses when there's a goal, penalty or other kinds of events the player can configure. A pop-up of the rink displays the position of significant events on the ice. There's no animation, no direct control over players and the game plays itself. You can go in and view the lines, tactics and strategy screens, and it's all very technical and not very exciting.
The controls for the game are very simple. I was able to play it with a mouse as well as by using the touchpad. It's all point and click with occasional use of the keyboard for entering text. What isn't simple is the interface layout, which isn't always intuitive and can get a bit busy at times. I did find some of the scrollbar handles difficult to see because of the color palette, and a lot of the controls were links in text and it wasn't always clear which were clickable and which weren't.
The graphics aren't much to speak about. The displays are colorful and there are occasional pictures of players but there are no actual graphics that would require a powerful GPU.
The sound is also minimal. You hear the crowd during a game reacting to goals (cheering for the home team, booing the visitors) and the buzzer sounds when a goal is scored, but that's it. There's no in-game music.
I had no glitches or stability issues at all. FHM4 does take quite a while to set up when starting a new game, but it's a one-time thing so I don't count that against it.
There aren't any moral concerns in a game like this. I assume, at this level of detail, there must occasionally be fights, which hockey is known for, but I didn't experience any during my games. Even if I had, it wouldn't be a concern because nothing is animated. It would have been shown as just another notification and probably a penalty or two. Of course there's precisely zero sexual content, occultism and coarse language.
There is an online manual for learning to play the game, which is excellent because the interface can be fairly complex and the steps are not always intuitive.
Franchise Hockey Manager 4 is a game in the same way that fantasy sports is a game. This game is for a very specific audience. It's all numbers, calculated decisions and analysis. There's no actual "gameplay" to speak of other than that, so to me this isn't a very exciting game at all. On the other hand, for those who have a taste for this type of thing, it's definitely going to scratch the itch.
Do I recommend it? Yes, but only to those who love the stats and numbers and would like to try their hand at bringing it all together. Oh, and one more thing:
LET'S GO CAPS!!!!!!!!!!!!!!!!!!