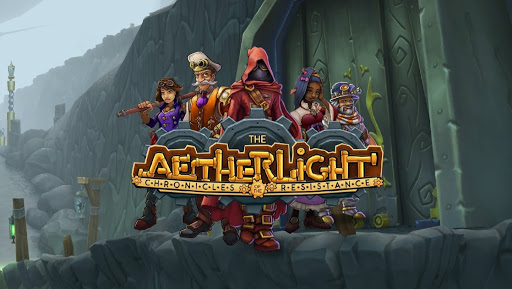 Game Info:
The Aetherlight: Chronicles of the Resistance Episode 2
Developed by: Scarlet City Studios
Published by: Scarlet City Studios
Release date: August 5, 2016
Available on: Android, iOS, Mac, Windows
Genre: MMO
Number of players: Single/Multiplayer
ESRB Rating: Not rated
Price: $9.99
Thank you Scarlet City Studios for granting us access to episode 2!
Aethasia is still under the rule of Lucky and his evil automatons.  In addition to robotic soldiers patrolling the streets, there are now mechanical rams waiting to sink their horns into members of the resistance.  The resistance follows the orders of a mysterious Scarlet Man who seems to show up when characters in this steampunk world get into trouble.
Episode 2 focuses on a racing team of two highly competitive brothers: Edmund and Julian.  Edmund is a good racer and he knows it.  Julian is fast too, but he relies on his wits more than his speed.  After Julian crosses the line by breaking the rules, he flees from his brother and meets another person as wily as him.  The originating story of Jacob and Esau can be found in Genesis 25-32.  I liked the inclusion of Julian wrestling with the Scarlet Man later in the game.
Highlights:
Strong Points: Great retelling of Biblical stories; safe game for children to play online
Weak Points: Graphical glitches; not many players online
Moral Warnings: Battles against mechanical enemies including robotic rams that shoot missiles from their rear ends
The battles remain the same with a spinning arrow that determines if your weapon of choice will hit, do a super attack, or miss its target.  Since all of the enemies are automatons there is no blood or gore to worry about.  There is some questionable potty humor as one of the ram attack moves consists of shooting missiles from its rear end.  
Crafting is still essential to complete quests and for modifying your weapons to do more damage.  Some nice modifications let you add fire, water, lightning, and oil attacks to your weapons.  Be warned that as you upgrade the attack power of some weapons, the ability to miss increases along with it.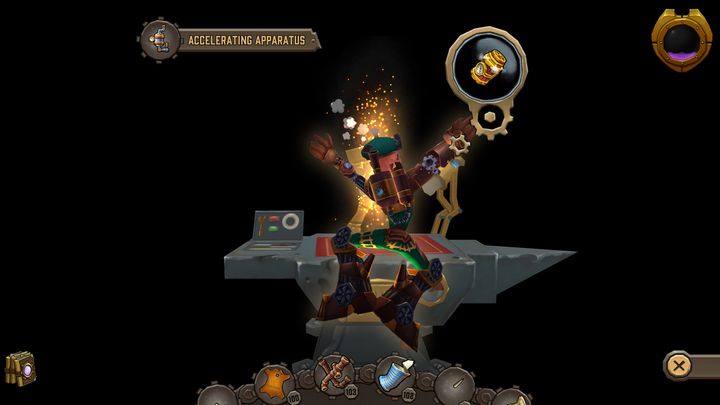 Score Breakdown:
Higher is better
(10/10 is perfect)
Game Score - 84%
Gameplay - 17/20
Graphics - 8/10
Sound - 8/10
Stability - 4/5
Controls - 5/5

Morality Score - 90%
Violence - 6.5/10
Language - 10/10
Sexual Content - 10/10
Occult/Supernatural - 10/10
Cultural/Moral/Ethical - 8.5/10
As expected, the voice acting is still well done with the existing and new characters.  If the story wasn't so linear, I would have left Julian to his own devices instead of putting up with his ungrateful behavior.  I like how you can continue to play the game and complete optional quests after the main story is finished. The level cap has been raised in this episode and that's a good thing since you'll need every health point to survive against the tougher foes.
Most of the time I fought alone, but occasionally I would have the help of an online player or two.  There seems to be a handful of players online at any given time, but there is plenty of room for some more.  I like how Scarlet City has added the family pass that sells for $19.99 and lets up to five players connect simultaneously.  
Overall, The Aetherlight: Chronicles of the Resistance is a fun and family friendly series that teaches Biblical stories in a new and exciting way.  I hope that more people check it out since there is a way to try it online for free.  Check out their website for more details!