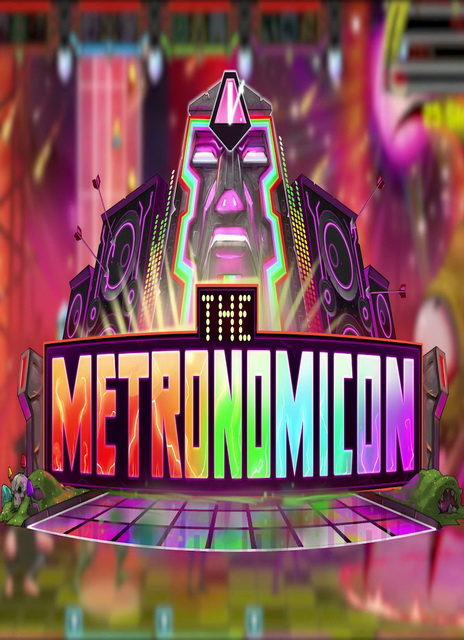 Game Info:
The Metronomicon
Developed by: Puuba
Published by: Kasedo Games
Release date: September 29, 2016
Available on: Windows, Mac, Linux
Genre: Rhythm
Number of players: Single-player
ESRB Rating: not rated
Price: $19.99
(Humble Store Link)
Thank you Kasedo games for sending us a review code!
Wade the warrior, Gwen the protector, Clark the medic, and Violet the exploder (fire mage) have just graduated from the Neon Shield School.  The timing is perfect since they need to purge the corruption in the land and protect the peaceful towns from the monsters that are attacking them.  What sets The Metronomicon apart from other RPGs is that this one is rhythm based.  It's time to put their degrees in Rhythmic Combat Arts to good use!
The 2D battles show each of the characters with their own music track and arrows flying down.  You can toggle the active hero using the shoulder buttons on your game pad.  To complete an attack, heal/cure, or spell, several arrows have to be properly pressed in a row.  You can either use the D-pad or the buttons on the game pad.  I preferred using the buttons since they were easier for me to do combos with.  If you have a USB DDR pad handy, this game is playable with it.
Each character has different levels or attacks/abilities.  After the first level is completed the second level will commence with a different background color.  Sadly, the attacks/abilities are not stackable.  I learned this the hard way when my party was not getting healed since I was completing the level two cure ability with my healer instead of stopping at the level one heal.  
Highlights:
Strong Points: Fun Rhythm/RPG mashup game with great music 
Weak Points: Partial controller support
Moral Warnings: Cartoon violence and magic use; some pentagrams are seen; midriff shown on female characters
As the party completes songs they will earn experience and some equipment drops.  There are story missions and side quests and they all earn "Street creds" which can be spent to upgrade their school to further unlock more perks and equipment.  Besides the story mode, arena challenges and free play songs are available to try at your leisure.
There are several areas in the story mode, but only one of them is unlocked in the beginning.  In order to advance to the new areas, you'll have to defeat the previous one's boss.  The level bosses are much more challenging than the mini-bosses that appear in the normal song challenges.  
The side quest's songs and the arena battles have a specific requirement that has to be met in order to complete the challenge.  For example, you may be required to reach a certain combo or defeat a certain number of enemies before the song ends.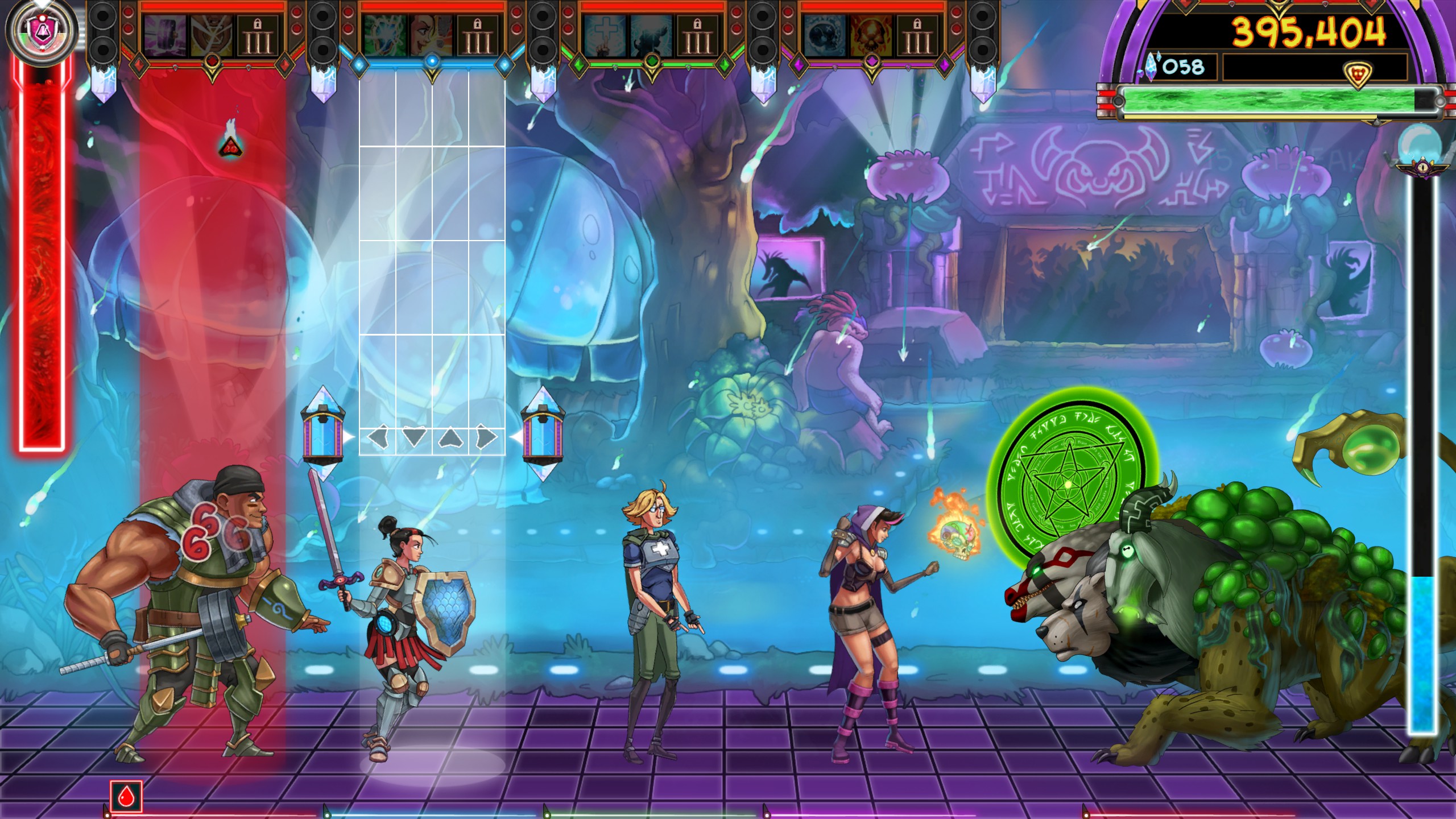 Score Breakdown:
Higher is better
(10/10 is perfect)
Game Score - 90%
Gameplay - 18/20
Graphics - 8/10
Sound - 10/10
Stability - 5/5
Controls - 4/5

Morality Score - 81%
Violence - 7/10
Language - 10/10
Sexual Content - 8.5/10
Occult/Supernatural - 5/10
Cultural/Moral/Ethical - 10/10
The songs are mostly electronic dance music, however there are a few rock ones in there.  The music is really good and the soundtrack is available for purchase either in a deluxe game bundle for $27.98 or separately for $7.99.  You can unlock a DJ room in the game where you can listen to songs purchased with crystals you have earned in battle.  DLC is also available for this game as well.  As of this review there's a Chiptune DLC pack for a reasonable price of $1.99.
Although this game is single-player only there is plenty to do with completing the songs on all three difficulty levels and trying to get your score higher and higher on the global leaderboards.  If you're into earning Steam achievements, there are thirty to collect.  Other Steam enhancements include Steam cloud saves.  According to the Steam store page, there is limited controller support.  While I had no problems playing it with my Xbox One controller, my SteelSeries Stratus XL controller needed to have the buttons mapped in the options menu.
Visually, this game is pretty colorful and the 2D art style is nice.  The enemies and bosses are well animated and very detailed, but I didn't get to appreciate them too much since I was focusing on the required dance moves.  I did however, notice some pentagrams near the mini-bosses.
If you like RPG and Rhythm games, The Metronomicon is worth looking into if the pentagrams don't both you.  If it wasn't for those I'd wholeheartedly recommend this game to fellow believers.