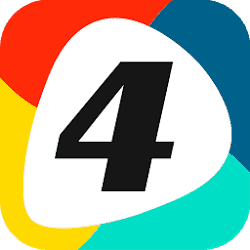 Game Info:
FourChords Guitar Karaoke
Developed by: Musopia
Published by: Musopia
Release Date: July 19, 2016
Available on: Android, iOS, PC, Mac, SteamOS/Linux
Genre: Edutainment
Number of Players: Single-player
ESRB Rating: Not rated
Price: $14.99
Thank you Musopia for sending us this game to review!
I really enjoyed playing Guitar Hero and Rock Band when they first came out.  When multiple instruments were introduced, I still stuck with the guitar.  Even though my mom and brother knew how to play guitar, I never expressed interest until a video game offered to teach me.  That game is FourChords Guitar Karaoke.  
Unlike Rock Band or Guitar Hero, you will not be playing in five minutes if you've never played a real guitar before.  Before you can play any song you will have to learn at least three chords and have your fingers prepared for the strain that will be placed upon them.  Not only will your fingers be stretched in new ways, they will also endure some pain by holding down metal strings repeatedly.  It will take a few weeks to develop some callouses on them.    
If you're okay with the time and pain requirements, there's a lot to like in FourChords Guitar Karaoke.  Since this game is in early access, it's hard to say what the final version will have, but bundled into it at the time of this review are one hundred and ten songs broken into four categories. All of the songs are available from the start and you don't have to unlock any of them. 
Highlights:
Strong Points: Great way to learn how to strum and play guitar; instructional videos from JustinGuitar.com are integrated into the program
Weak Points: Computer generated songs without vocals are used
Moral Warnings: Some of the included songs have mild language (hell/d*mn) and suggestive themes; drinking references
The categories are Traditional/Starter, Country Starter, Rock Starter and Pop Starter.  The song selection is pretty good and there should be something for everyone to enjoy.  The mobile versions are free and allow the users to build up their music library by purchasing songs of their own choosing.  I'm curious what DLC offerings will be available for this title down the road.  
The song list can be filtered by the chords you know, but I also enjoyed playing songs that I liked even though I couldn't play them fully yet.  When selecting a song, you will see the chords and have the option of seeing a tutorial video (courtesy of JustinGuitar.com) for each of the chords used.  There is also a fingering chart for chords, and one and three string finger positions.  You can also view and learn the strumming technique and change the BPM to your liking
Some songs like Amazing Grace, House of the Rising Sun, and I'm Yours have a simple down strum technique while other songs have more complex ones.  The Holy Grail Strum (down down up up down) is used by many songs including Get Lucky, Counting Stars, Born to Be Wild, Don't Stop Belivein', and Sweet Child of Mine.  The song Royals (known by me as Weird Al's Foil) uses Basic 16ths strumming (down down up down down down up down down down).  An intermediate 16ths strum (down down down up up down up down down down up) is used in Me and My Broken Heart and Higher.  Even though Oh! Susanna has three chords, it's a rather fast song at 160BPM and has a unique strumming pattern called Shoot em' ups (down down down up down up).  I recommend focusing on learning and transitioning chords and sticking with simple down strums at the beginning.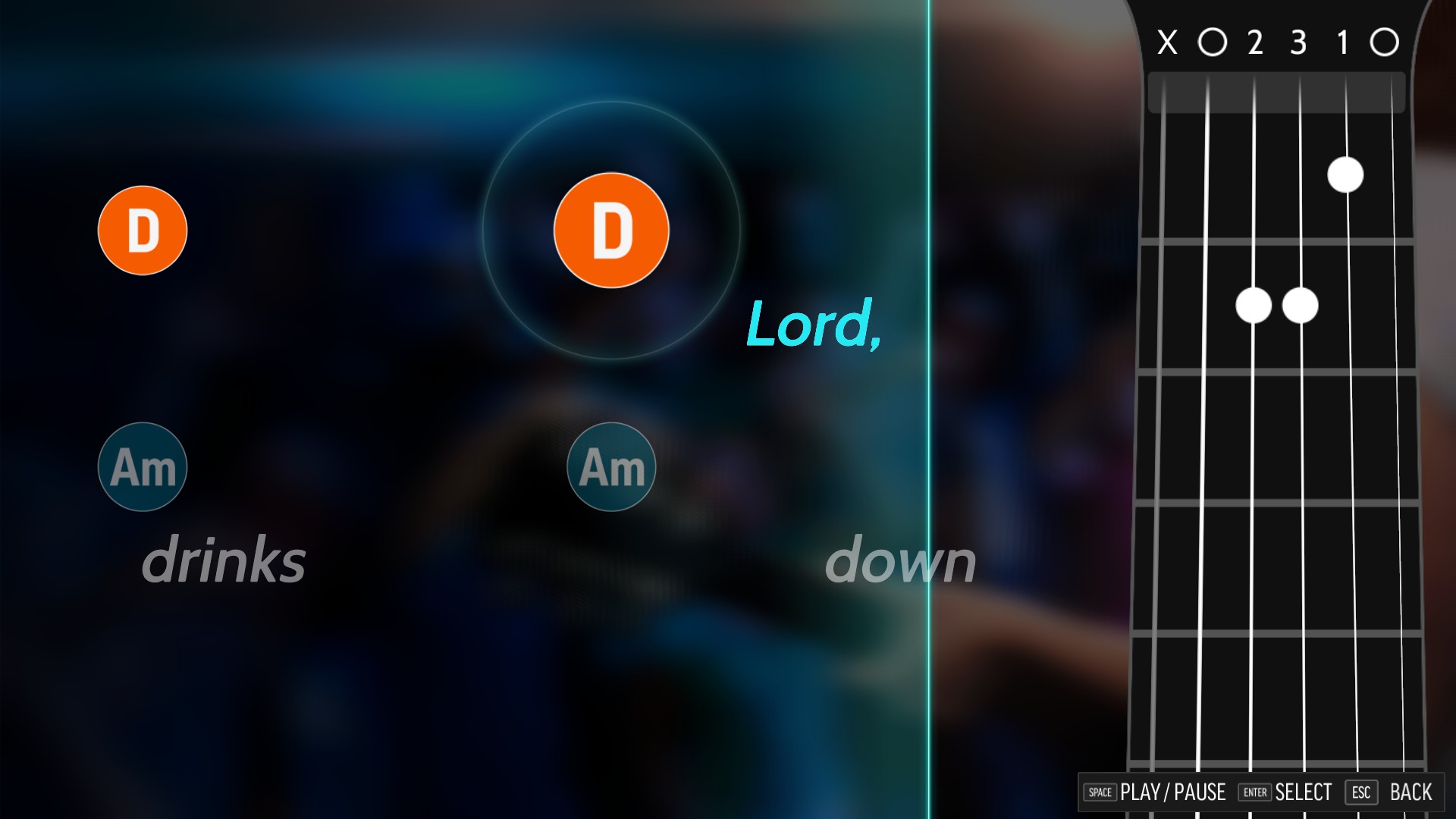 Score Breakdown:
Higher is better
(10/10 is perfect)
Game Score - 86%
Gameplay - 18/20
Graphics - 7/10
Sound - 8/10
Stability - 5/5
Controls - 5/5

Morality Score - 84%
Violence - 10/10
Language - 7/10
Sexual Content - 6.5/10
Occult/Supernatural - 10/10
Cultural/Moral/Ethical - 8.5/10
Some of the songs listed above  have moral issues worth mentioning.  I love Jason Mraz's I'm Yours, but it does have the word d*mn in the lyrics. Other songs like Get Lucky and Me and My Broken Heart have sexual references in them.  Last but not least, House of the Rising Sun talks about drinking and gambling.  Amazing Grace is in the song list so they're not all bad.
The songs are computer generated and are not what you hear on the radio.  There is no actual singing as the game expects you to do it!  Singing is purely optional and I just focused on playing the guitar.  No matter how well you play or sing, the game will say that you rocked upon completion.  If you're into Steam trading cards, they're available in this game.  
Even if you don't care for the Karaoke aspect of this game, it's an excellent teaching tool and I highly recommend it for any aspiring guitar players out there.  The Early Access price of $14.99 is very reasonable.  The free teaching video series by JustinGuitar.com is excellent and run by a donation honor system.  I recommend learning the G, D, and C chords from there so you can play a few of the songs from the get go.