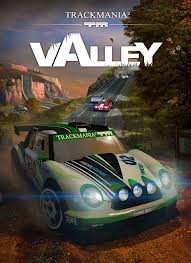 Game Info:
TrackMania 2: Valley
Developed by: Nadeo
Published by: Ubisoft
Release Date: July 4, 2013
Genre: Racing
Available on PC
ESRB Rating: E
Price: $19.99
System Requirements:
OS: Windows XP / Vista / 7 / 8 
Processor: 1.5Ghz 
Graphics: 256 Mb, Pixel Shader 2.0 / Intel HD 2000 / Nvidia ION / AMD HD 6310 
DirectX®: 9.0c 
Hard Drive: 15 GB HD space 
Other Requirements: Broadband Internet connection
Thank you Ubisoft for sending us TrackMania 2: Valley for review!
Ever since one of my best friends turned me on to TrackMania United Forever about 5 years ago, I have always had a soft spot for Nadeo's amazingly well polished 3D racing franchise.  Unlike most racing games, this game has a refreshingly straightforward goal: get the best time.  That's the one and only goal.  In pursuit of that goal, it strips the genre to its bare essentials: accelerate/brake, steer, and go.  If you press accelerate and brake simultaneously, you can drift.  And that's it - you could play this game with a NES controller.  But despite the obvious simplicity, there is a lot more to it than may seem obvious at first glance.
Players don't just race to try to get the best time.  In single player mode, they try to beat the bronze, silver, or gold time that the game supplies them with.  This is much more difficult than it sounds.  These levels are crafted expertly, with each hundredth of a second playing an important role in getting the best times possible.  And to beat gold, you may have to replay it many, many times to get your technique just perfect to get there.  The real draw isn't just beating the time - it's also beating the times of [i]every other player on the planet[/i].  The game is also broken down by nation, and state, so you can also see your rankings geographically, as well.  If that wasn't enough, you can also race against their ghosts, which gives you the opportunity to not just beat them, but see how they did it.  Improving your times and rank can be amazingly fun and addictive... buyer beware.
 Being a fully online community, it does more than just compare fastest times.  You can also play online against the many thousands of other players at that moment.  And the tracks are not just your simple 'point A to point B' racetracks.  These can be quite insane.  Hills, jumps, impossible loops – nothing is off limits here.   And with the very powerful built-in modding tools that integrate with Steam Workshop, it is extremely unlikely that you will ever see the same map rotation twice.  Since this game is always about the times, all other player interaction is in the form of ghosts; you cannot collide with another driver, but go right through them instead.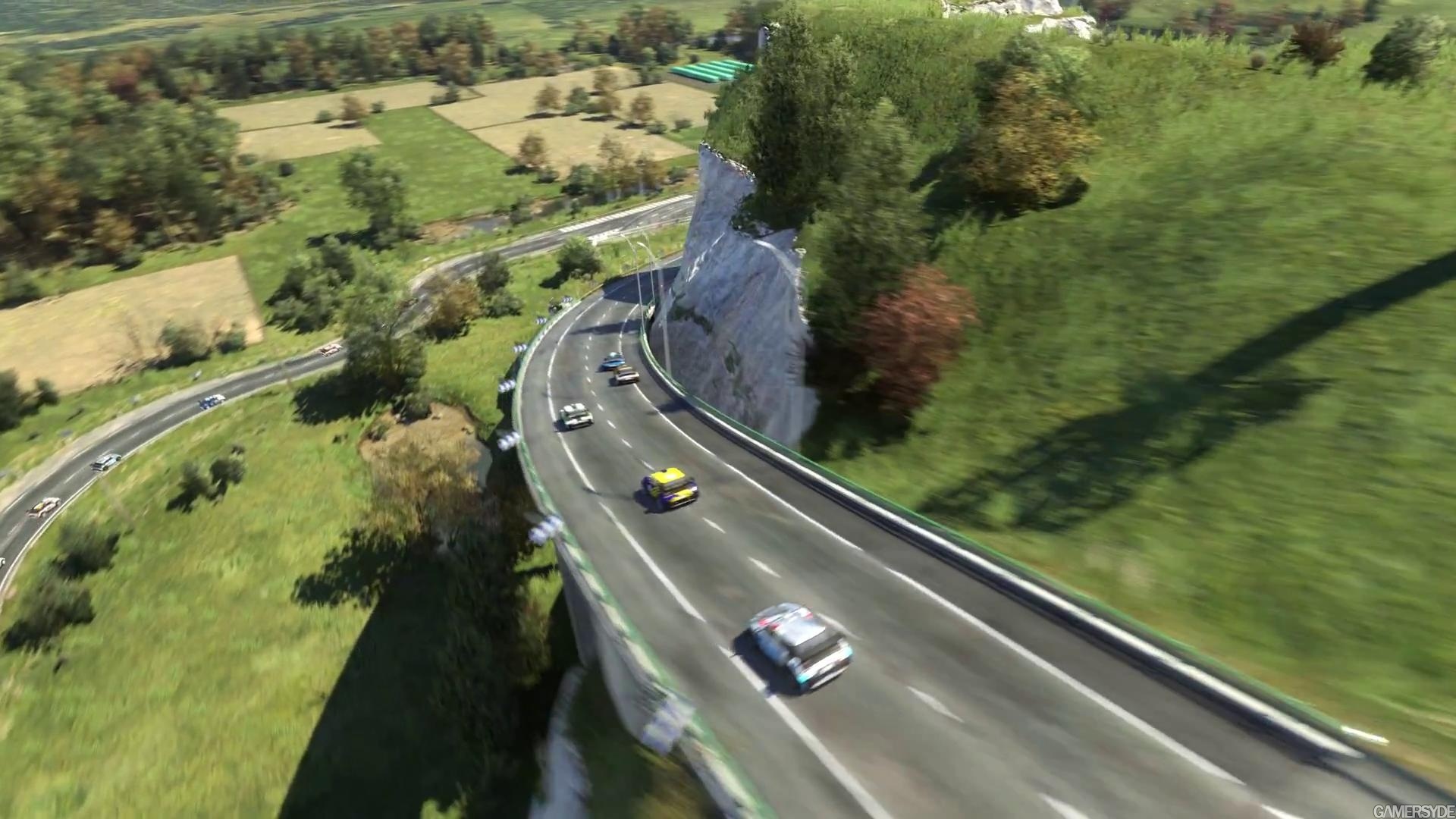 Highlights:
Strong Points: Best graphics yet in a TrackMania title; Easy to pick up and play, but very hard to master; Massive online community
Weak Points: No custom dead zones for joystick configuration; dirt driving massively more difficult than on road
Moral Warnings: Possible languange or inappropriate artistry (if enabled) in online gameplay
There is also split-screen multiplayer, if you would like to play with your friends or family in the room with you.  This world works well, and it's fun to play, though the map selection screens are a little clunky.
All of what I wrote above could easily have been written for virtually any of the other games in the TrackMania 2 series, and most of that even applies to the original TrackMania.  Despite that, each entry in the TrackMania 2 series does offer something unique, namely the tracks, environments, cars, and physics.
TrackMania 2: Valley is the third game in the TrackMania 2 series, after Canyon and Stadium.  Each environment has not only a themed backdrop, with Canyon's desert areas and Stadium's F1 racetracks (with some dirt and grass thrown in, of course), Valley takes place in the beautiful hills and valleys of Europe.  And this is the prettiest TrackMania yet.  With the varying dawn, day, evening, and nighttime settings, as well as the gorgeous forests, homes, rivers, and other stunning environments to behold, it's a real looker.  There are clouds in the sky as well that look convincingly real.  And if you are fortunate enough to have a system powerful enough to handle it fully cranked (don't forget with triple buffering and vsync!) it's even better.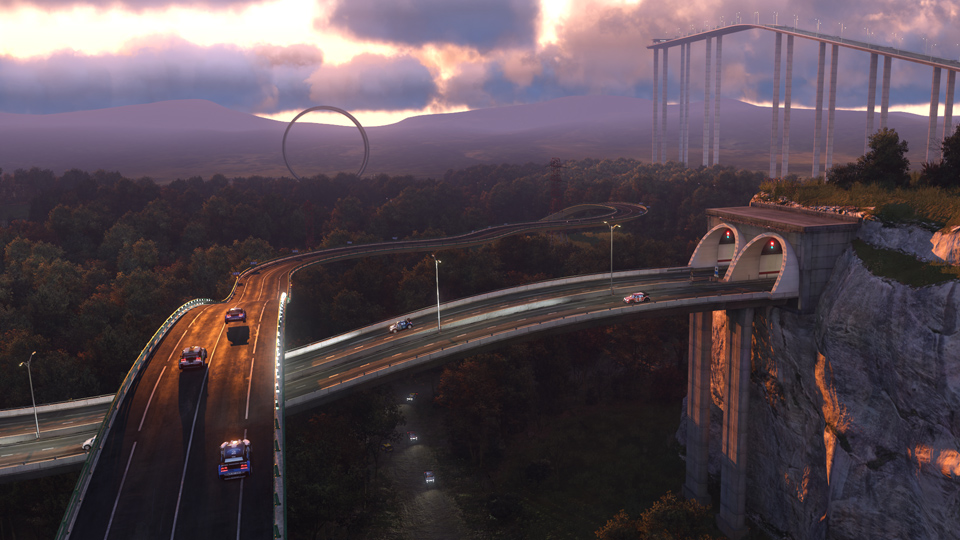 Score Breakdown:
Higher is better
(10/10 is perfect)
Game Score - 88%
Gameplay - 17/20
Graphics - 9/10
Sound - 8/10
Stability - 5/5
Controls - 5/5

Morality Score - 100%
Violence - 10/10
Language - 10/10
Sexual Content - 10/10
Occult/Supernatural - 10/10
Cultural/Moral/Ethical - 10/10
The cars, and the physics that drive them, are the most consequential changes to the driving experience in Trackmania 2: Valley.  Each game has subtly different physics, with Canyon's NASCAR-like cars excelling at heavy drifting, and Stadium's F1-like cars gripping the track tightly.  Valley's cars are notably different. These new cars use a model somewhat similar to a Mini, and the way they handle is that turning and drifting has a much larger impact on speed.  They also accelerate much more slowly, bringing a much different feel to the experience.  For example, making slow, wide turns, can often lead to faster lap times than attempting to drift around a sharp corner.  And turning on dirt really requires skill, as you can very easily overturn, resulting in lost time correcting your mistake.  Despite this, the sense of really earning your speed makes it in some ways feel more rewarding when you really get that momentum going.
This game is absolutely squeaky clean, like virtually all of Nadeo's other games. There is just crazy high speeds – no law enforcement to worry about, no people to get harmed, or any other moral issues to be concerned with.  When you crash, you can definitely get a nicely banged up car, but this does not effect driving in any way other than cosmetically.  When playing online, there may be people who write inappropriate messages or draw logos that may be tasteless.  Downloading images from other racers is optional, if I remember correctly.  That is the extent of any content issues, which is to say: I let my young children play this game.
And I play it, too.  TrackMania 2: Valley is an excellent new addition to the TrackMania series.  If you love eye candy with your high speed, this game is probably the best entry yet for that.  If you have never played a TrackMania game, you could start with Valley, and enjoy it, but I would recommend either trying out the free (but much older) TrackMania Nations Forever to see if it's your thing, or picking up TrackMania 2 Stadium for half of the price of this game.  But if you are like me, and can't get enough of the TrackMania universe, then this game is a no brainer – there are few games that combine the modern advances in graphics and sound, and the old-school arcade-like 'get the best time' gameplay as well as TrackMania.