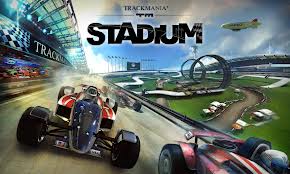 Game Info:
TrackMania 2: Stadium
Developed by: Nadeo
Published by: Ubisoft
Release Date: June 20, 2013
Genre: Racing
Available on PC
ESRB Rating: Not rated
Price: $9.99
Thank you Ubisoft for sending us this game to review!
TrackMania 2: Stadium is a follow up to TrackMania 2: Canyon but it feels more like the popular and free 3D racing game TrackMania Nations Forever. Like its predecessors, there's a worldwide ranking database that keeps track of your skills globally, as well as your rank by country and state!  As more people play, my rank drops lower and lower so I don't think I'll pose a threat to anyone.   Besides racing, there's a built in track editor that allows you to create and share your tracks with the massive online community. There are over 12.5 million racers that have enjoyed TrackMania Nations Forever and while TrackMania 2: Stadium  is not free, it does bring a lot to the table.   
There are lots of new tracks that are guaranteed to keep you at the edge of your seat.  You can play TrackMania 2: Stadium by yourself, online, or in a LAN party mode. The solo mode has sixty five tracks that get progressively harder. Not all of the tracks are available at once, so you have to unlock tracks by earning bronze, silver and gold medals. The medals are earned by how fast you can complete each track. The tracks are separated by five difficulties: White, Green, Blue, Red and Black. You cannot play any of the tracks in Black until you have gold medals on all of the other tracks. 
By the way, this is not a realistic racing game. The red tracks are just plain crazy with stunts like doing loops and jumping from one end of the track to the other. In both of those scenarios you need a lot of speed to complete the maneuver. Needless to say, I never unlocked any of the black tracks.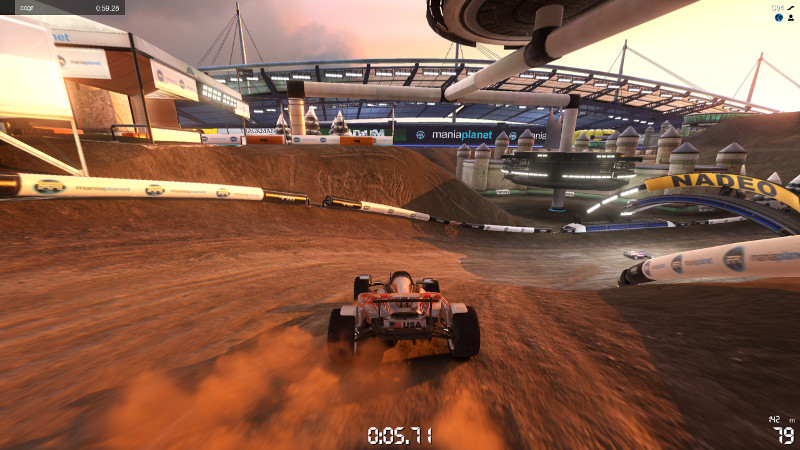 Highlights:
Strong Points: Easy to play but hard to master.
Weak Points: Some of the tracks are difficult and confusing.
Moral Warnings: Possible language in online gameplay.
When playing in solo mode you can choose which medal (time) you want to aim for. As you race you'll see your competition or even a shadow of your last performance to race against. There are plenty of active servers and finding an online match to join was pretty easy to do.  Depending on the game mode, you may actively race against players or race solo and keep aiming for the best performance until the time runs out.   You don't have to worry about bumping into people since you can pass through them without taking damage to your car.  While you could pass through opponents in TrackMania 2: Canyon, I miss the ability to have the car take damage from the environment.
The graphics have been vastly improved in Stadium which says a lot since TM Nations Forever had great graphics for its time.  The formula one cars are now shinier and get messier on the dirt tracks.  The textures are higher resolution and the ads are gone with the exception of the Nadeo logo on blimps and banners.    
The tracks vary with time of day, road, grass, and mud surfaces. The race cars all look unique and the lighting and shadows look great too. If you own a pair of 3D glasses you can play this game in 3D. Painting cars and creating tracks was pretty easy to do.  The track creator has a simple and an advanced mode. The advanced has a lot more to it and is still drag and drop so I recommend playing with that setting.
The camera is normally behind your race car, but when you are doing loops, the camera view will sometimes automatically change to first person view. It takes a little getting used to but it is a little annoying. Fortunately, it does change back after the loop is completed. There are multiple camera views with the default being behind the car; there is also a cockpit view.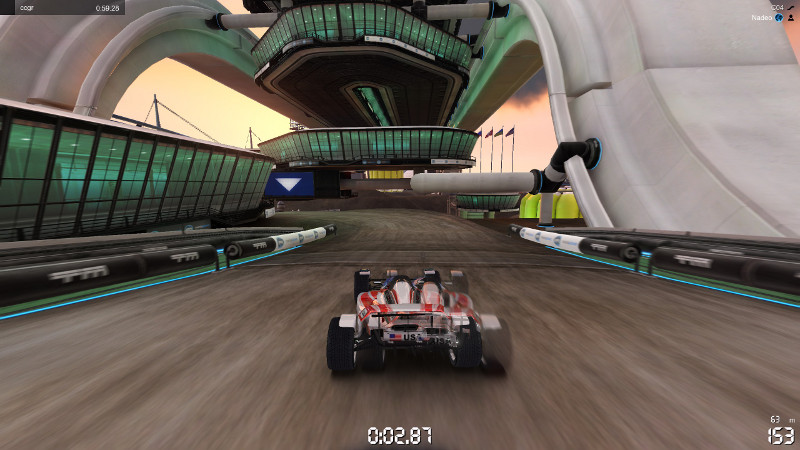 Score Breakdown:
Higher is better
(10/10 is perfect)
Game Score - 88%
Gameplay - 18/20
Graphics - 8/10
Sound - 8/10
Stability - 5/5
Controls - 5/5

Morality Score - 100%
Violence - 10/10
Language - 10/10
Sexual Content - 10/10
Occult/Supernatural - 10/10
Cultural/Moral/Ethical - 10/10
When it comes to the audio department, Stadium is on par with its predecessors.  The sound effects will not disappoint. The race car and crash sounds are pretty spot on. The electronic background music is energetic and pleasant to listen to. 
The controls are flexible and are very responsive since every millisecond counts.  For controls you can use your keyboard or a racing wheel/joystick. The latter is far more accurate. Force feedback is supported which is nice.
When it comes to appropriateness issues there is nothing to worry about here. No bikini babes at the finish line or anything like that. The standard online game warning applies: you never know what other people will say online but you can't fault the game for that, only the players.  As with all online games, some people you race with may have potty mouths.
Overall this is a fun game that I would recommend to any race game lover. For the meager asking price of ten dollars you get multiple hours of solo play not to mention the online portion or the map making and sharing.  I created and shared a map on the Steam Workshop but haven't seen a way to access player contributions yet.  Hopefully it will be available soon; until then; you can download maps from various fan sites like http://tm.mania-exchange.com/.