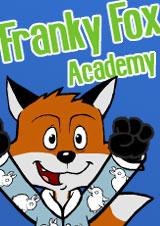 Game Info:
Franky Fox Academy
Developed By: Freddy Hines
Release Date: 8/18/2011
Available On: PC
ESRB Rating: N/R
MSRP: $9.95
System Requirements
Windows XP Service Pack 3, Windows Vista Service Pack 1, or Windows 7
Graphics card that supports DirectX 9.0c and Shader Model 1.1
32 MB of hard disk drive space
Memory: 512MB
Thank you Freddie Hines for sending us this game to review!
Franky Fox has a big test tomorrow, and he needs your help to do an all night cram session. The built in topics include Math (addition, multiplication, fractions), The Bible (12 Apostles and New Testament books), Countries in North and South America, US Presidents, and US state capitals.  The topics are customizable, allowing you to remove and create your own using the website's easy to use topic generator.
The gameplay is fast paced, and most of the game modes are time based.  The most common game mode is a grid with correct and incorrect answers.  You must select all of the correct answers to complete the level.  If you take too long, swarms of flies or frogs will touch Franky, causing him to lose a life.  If he has one of his three lives left, he can resume the level.  If you select a wrong answer, Franky will slow down for a few seconds, making him an easy target for the big bugs and toads hopping around the squares.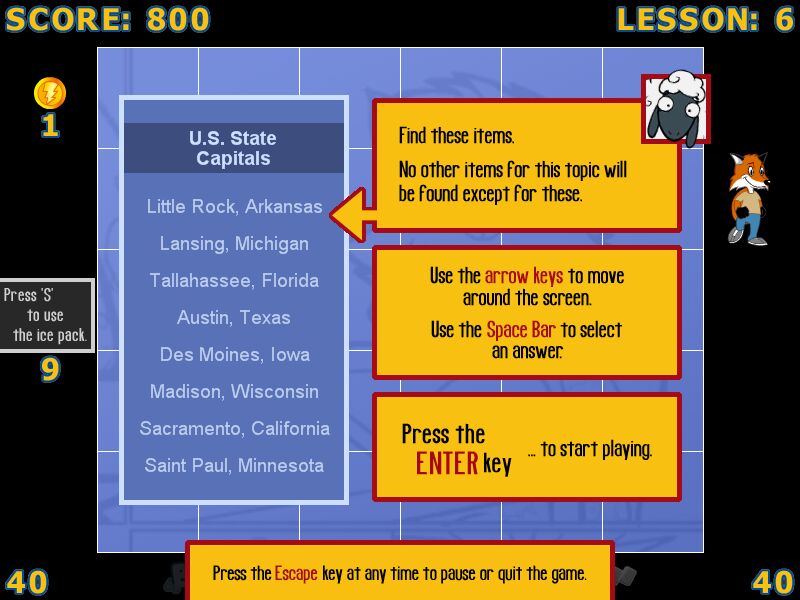 Highlights:
Strong Points: A fun learning game; easily customizable; great price.
Weak Points: No full screen mode. Some of the enemies are tough to avoid.
Moral Warnings: You may get hit with snowballs.
Although Franky starts off defenseless, you can find and use weapons and abilities to make his life easier.  You can collect gym shoes that allow him to cross over to the other side of the puzzle through the edges.  For example, if you go all the way to the bottom and keep going, you'll be back on the top.  When I mention weapons, I don't mean deadly guns that require a license to own.  Franky can make bad guys disappear by hitting them with his trusty pop cap gun.
The snowball levels are hard since you're outnumbered and have no tactical advantage.  The goal in the snowball levels is to hit four different targets with the correct answer while dodging snowballs.  Before you can throw a snowball, you have to power up your throw to get enough oomph into it.  If you hit an incorrect target, you'll have to start over.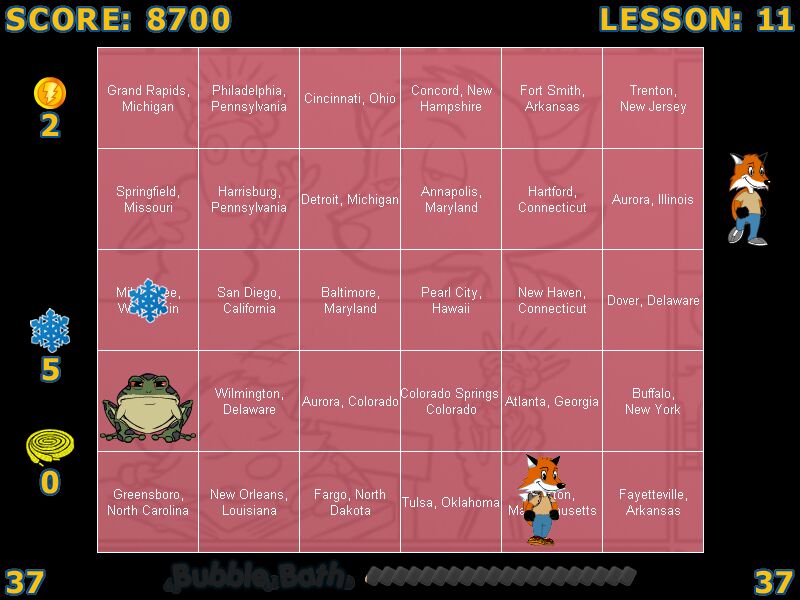 Score Breakdown:
Higher is better
(10/10 is perfect)
Game Score - 82%
Gameplay - 16/20
Graphics - 8/10
Sound - 7/10
Stability - 5/5
Controls 5/5

Morality Score - 96%
Violence - 8/10
Language - 10/10
Sexual Content - 10/10
Occult/Supernatural - 10/10
Cultural/Moral/Ethical - 10/10
The last game mode is the time attack round, where you have to quickly answer all of the questions correctly in fifteen seconds or less.  If you get one wrong, you guessed it, you'll have to start all over.
Not only does this game show you your personal best scores, but it will also show you where you rank online as well.  When you create your own custom modules, you have the option of keeping them private or sharing them with other players online.  
For $10, this game is fun and has endless possibilities for being a great study tool.  It's appropriate for students of all ages and parents rusty on their geography.  Not that I would know….. *blush*.