Game Info:
Magicka Final Frontier
Developed By: Arrowhead Studios
Published By: Paradox Interactive
Release Date: June 21st, 2011
Available On: PC
ESRB Rating: Teen
Genre: Satire Fantasy
Single/Multiplayer
Magicka (required to play)
Price: $2.99
Thank you Gamers Gate for giving us this game to review!
Star Trek fans will rejoice with all of the details added in this DLC pack based off of the infamous battle between Captain Kirk and Spock.  If you have seen the TV classic Star Trek, you'll recognize the setting, default staff, phasers and new robe designs offered by this expansion.  If you have not seen the show, all of this will be above your head, and is probably not worth spending $3 on.  Unless, of course, you're itching to try a new map or look. 
There is no story or objectives to complete in Final Frontier.  Your goal is to survive waves of enemies or attacks from your magic wielding friends/foes.  This map is perfect for the recently added Player versus Player (PvP) mode.   Just like the previous expansions, only the host needs to have it installed for others to enjoy it.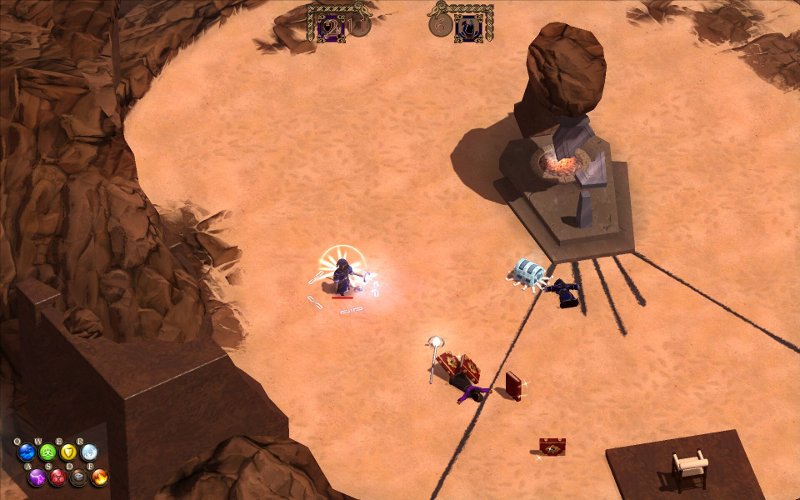 Highlights:
Strong Points: Star Trek robes and phasers added.
Weak Points: 1/3 the price of the game for a map, a phaser and Star Trek robe. 
Moral Warnings: Magic use; violence and blood, which can be disabled
The new Vulcanous Arena map was definitely inspired by the show, and has all of the props shown in the fight scene including the queen's chair.  (It's not used in the game).   Whatever that center pillar was in the show is there, too.  The colors are much brighter in this map since technology has changed a lot since the 1960's.  
Nothing has changed when it comes to the spells and basic gameplay.  There are eight elements, and you can combine up to five of them at a time. The elements at your disposal are fire, water, ice, earth, arcane, life, lightning, and shield.  You can target spells on yourself, ahead of you, or the area of effect around you. Some of the elements cancel each other out, while others are hazardous to your health if used at the wrong time. For example, don't use a lightning spell if you're dripping wet; dry yourself off with a fire spell first.
Spells can be learned by finding and reading spell books scattered throughout the level.  Most of the spells are learned by trial and error, and when you add arcane to the mix it makes a very powerful beam of water, fire, or electricity.  Unlike Ghostbusters, crossing beams in this game can be a good thing!  When you add earth to fire or ice you can make some powerful projectiles.  Earth can also make land mines that can heal or hurt depending on the elements you use.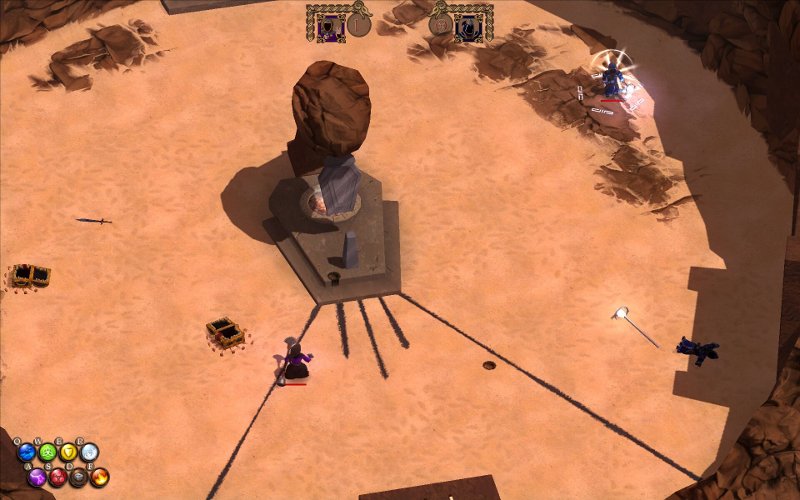 Score Breakdown:
Higher is better
(10/10 is perfect)
Game Score - 82%
Gameplay - 15/20
Graphics - 8/10
Sound - 9/10
Stability - 5/5
Controls 4/5

Morality Score - 81%
Violence - 5.5/10
Language - 10/10
Sexual Content - 10/10
Occult/Supernatural - 5/10
Cultural/Moral/Ethical - 10/10
This was my first time playing PvP and it took a while to get used to the re-balanced spells.  Some of the random weapon drops will greatly boot the defenses of a player, making them practically invulnerable to all of the elements, and difficult to kill.  Other than the weapon imbalance, it was fun.  
If you like Magicka and Star Trek, this add-on will be a no-brainer.  It's priced higher than some of the map only expansions, but they do add some new robes and weapons to use.  I'm happy to report that I did not experience any crashes while playing this time around.  I'm glad some of those stability issues have finally got ironed out.  Unfortunately, looking at the number of servers online, many have given up on this game already.  If you do have Trekkie fans that still play, this expansion is worth considering.  Live long and prosper!