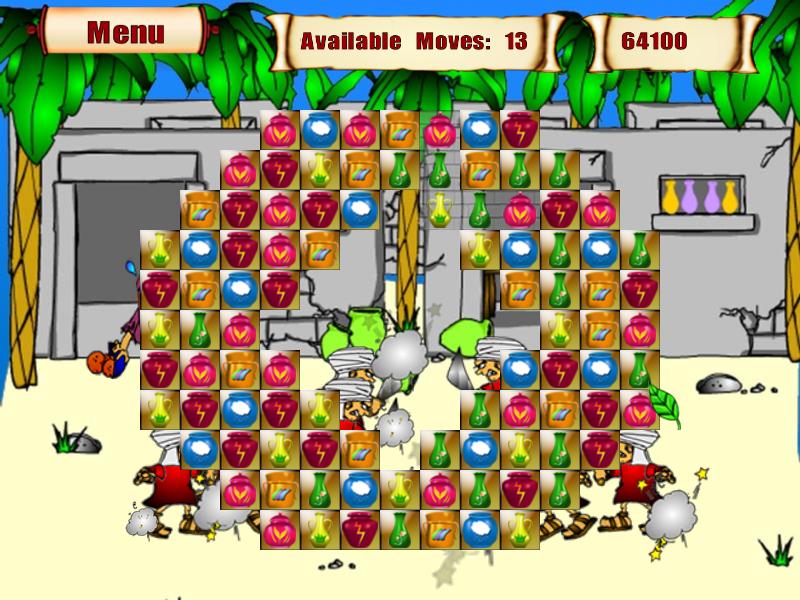 BibleMinis is a puzzle game that is not only fun, but educational as well.  There are various levels inspired by Bible stories. As you complete all of the stages, you will have the story animated and narrated for you.  You can re-play the movies by going to the Movie Gallery; as you progress in the game, you will unlock more movies.
How do I play? 
Like many puzzle games, your goal is to eliminate tiles by matching up three, four, or five, like tiles; this is done by swapping about adjacent tiles. You can only line up adjacent tiles.  When you match up four or five items, you will get a special item in play that can help you by calling angels to clear a row or column for you.  The objects have a colored background to start; your goal is to replace them with transparent ones.  Some levels also require you to bring an object down to the last row.  There's a handy counter on top to let you know how many moves you have available.  In the rare event that you run out of moves, the tiles will shuffle around so you can continue to play. If you get stuck, the game will help you by flashing a movable piece for you. 
There are two game modes: classic and timed.  In timed mode, you will lose a life if you haven't completed the level before the time runs out.  If you lose all of your lives, the game is over.  (I prefer the classic mode, I don't like the pressure.) 
What stories are represented within the game?
Adam and Eve
Noah's ark
Moses and the plagues
David and Goliath
Daniel and the Lions
Jonah
Samson
Graphics
The graphics are colorful, and the cartoon characters and animations are well done. The animated movie shorts look nice, too. The pieces are very distinguishable and are easy to work with. There is nothing too fancy in terms of graphics, though they are on par with most puzzle games out there.
Sound
When you match pieces together there is a jar breaking sound.  The background music is a bit repetitive and loops, but it is pleasant to listen to.  The voice acting for the movies is good. 
Controls/Interface
This is a mouse driven game, and it's very easy to play and maneuver around. 
Stability
I did not run into any problems playing this game.
Multiplayer? 
This is a single player game only.  It's highly re-playable with the two different game modes.  
Appropriateness
This game is Bible based and teaches good Bible stories.  There is animated violence but it's very tame. 
Final Thoughts 
If you like puzzle games, BibleMini's is worth checking out. There is a demo available that will allow you one hour of game play and up to ten uses.  The full game is a reasonable price of $9.95.  There is no standalone full version available to buy; you have to download the demo and unlock it to the full version.  You can see the game in action on GodTube.
 
Final Ratings
Game Play 16/20
Graphics 8/10
Sound 7/10
Stability 5/5
Controls 5/5
Appropriateness 48/50
 Final Score 89%