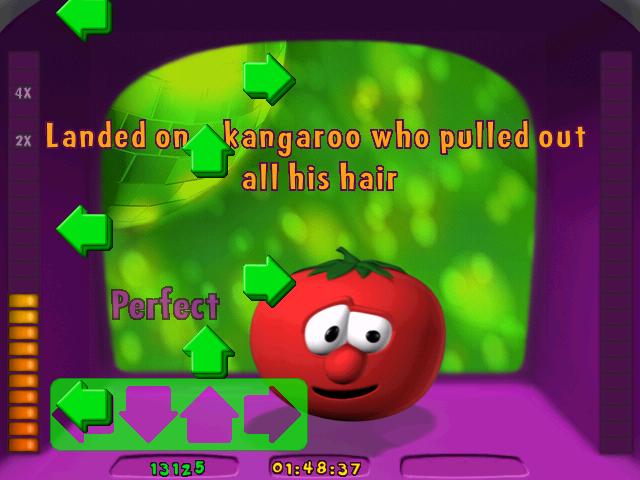 System Requirements Windows:98/ME/2000/XP Mac:OSX 500MHz CPU 100MB HDD space 128MB RAM 8X CD-ROM DX 9 compatible sound and video USB ports for connecting the dance pad If you like Dance Dance Revolution and Veggie tales this game is sure to please! It's got the Veggie Tale twist with over fifty silly songs to dance to. Dance Dance Dance uses the Dance Praise engine but I must say it's very well polished and looks better than the original Dance Praise in my opinion. Like Dance Praise, the arrows still go down instead of up.
What Dance Modes are there?
For all the Dance Modes there are four difficulty levels: Easy, Medium, Hard and expert. Of course there is the standard dance mode when you dance to a song, keep your life bar up and get scored at the end. If you want more of a challenge, try the Arcade mode. In Arcade Mode you have score increasing and decreasing arrows. There are also bomb arrows that if you tap on them, will cause a cloud of smoke to appear and make it harder to judge when to tap the dance pad. So in Arcade Mode it is okay to miss certain arrows. For those wanting to lose weight there is an exercise mode, in which you can set a goal of how many calories you want to burn, or how long you want to dance for. Finally the most challenging mode depending on how mean the leader is: Follow The Leader. In this mode, the leader makes up dance moves for the other person to do. If you just want to listen to the music there's a sing along mode, which is cute.
What songs are there?
There are fifty-one songs you can sort by title, silliness or difficulty. 1. B-O-N-G-O 2. Bellybutton 3. Big Things Too 4. Billy Joe McGiffrey 5. Boids 6. Do the Moo Shoo 7. Driving Medley 8. Endangered Love 9. Erie Canal 10. Ezekiel Saw The Wheel 11. Gated Community 12. Get on Board 13. Good Shepherd 14. Head, Shoulders, Knees and Toes_Do your Ears Hang Low 15. His Cheeseburger 16. I Can Be Your Friend 17. I Love My Duck 18. I'm So Blue 19. John Jimmy Jingleheimer Schmidt 20. Joshua Fought The Battle Jericho 21. Joy To The World 22. King Jesus Is All 23. Larry's High Silk Hat 24. Love My Lips 25. Modern Major General 26. Polly Wolly Doodle 27. Promised Land 28. Rocka My Soul 29. Salemunz Rap 30. Schoolhouse Polka 31. SillySong Remix Medley 32. Sports Utility Vehicle 33. Take Me Out to the Ballgame 34. Thankfulness Song 35. The Bunny song (reprise) 36. The Dance Of The Cucumber 37. The Green Grass Grew All Around 38. The Hairbrush Song 39. The Pirates Who Don't Anything 40. The Song Of The Cebu 41. The Veggie Tales Theme Song 42. The Water Buffalo Song 43. The Yodeling Veterinarian Of The Alps 44. There's a Hole in the Bottom of the Sea 45. This Is My Commandment 46. This Little Light Of Mine 47. What Do You Do (With A Tired Veggie) 48. When The Saints Go Marching In 49. While by my sheep 50. Who Did (Swallow Jonah) 51. Zacchaeus
Graphics/Interface
The interface is pretty easy to maneuver and use. There's a helpful announcer to explain everything to you. Many of the game elements look the same when it comes to the song selection. One feature I like is the Tune Into You mode, which chooses and adjusts song difficulties depending on how good/bad you do. The Dance Pad configuration is pretty handy and easy to use. I like how you can see the song lyrics in the background. The Dance Pad itself is unique and very colorful.
Sound
This game is all about music and this game will not disappoint in this area. It is great to see a DDR game where you do not have to worry about sexual or drug overtones in the songs. This is an ideal game for kids, church, and youth group gatherings. The music quality is good and it uses a proprietary song format.
Bugs
I can say from experience that this game does alt-tab very well so if it does get interrupted you can go back without any problems (other than a lower score if you got interrupted during a song). One other complaint I have is that this game doesn't disable the screensaver, so if you are having a long dance session, it will get interrupted.
Final Thoughts
Overall I'm impressed with this game and would recommend it to any Veggie Tales or any DDR lover. There's a good number songs to dance to. This game retails for $49.99 and that's including a dance mat. You can buy the game at many retailers including Covenant Games
Final Score
Appropriateness 50/50 Game Play 20/20 Graphics 8/10 Sound 10/10 Controls/Interface 5/5 Stability 4/5
Final Score: 97%
{pgomakase}