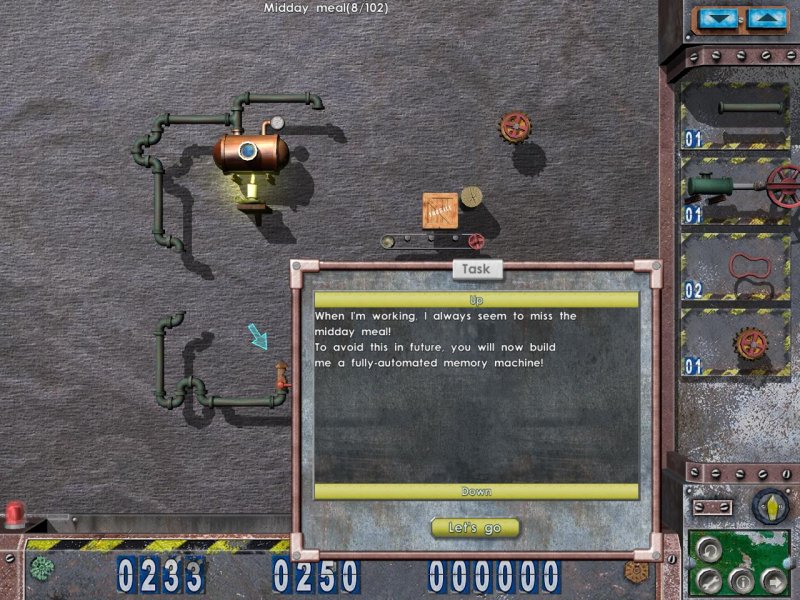 System Requirements Computer: 800 MHz CPU Operating system: Windows 98/ME/2000/XP Memory: 128 MB RAM Drives: 60 MB free hard disc, 2x CD-ROM drive Graphics: DirectX 8 compatible graphic card with 32 MB RAM (TNT2 or similar) Sound: DirectX 8 compatible sound card Crazy Machines is the prefect title for this game. It?s all about making contraptions out of various parts or elements as they are referred to in the game. There are different labs you can work in. You have your own lab, which you can create your own machines or experiments, plus there are two other labs with mind bending machine puzzles to complete. The two main labs have a little over one hundred puzzles each.
How do I play?
Each puzzle has an objective to complete such as having objects fall or end up at a certain place, or to cook a sausage etc. There?s an element bar, which allows you to use a limited number of pieces to drag and rotate into place. Then you flip the switch to let gravity do its thing and see how your idea turned out. Time bonuses are awarded if you complete a puzzle quickly.
So what do I get to work with?
There are some plain objects like wooden boards, dominos, pipes, rope, balls, crates, pulleys, buckets gears etc. Then there are some fun objects that involve fire like cannons, candles, rockets, dynamite etc. You can use other forms of energy like electricity, steam, and wind. There are over seventy gadgets all together.
Graphics
The graphics are decent in this game. The objects are 3D rendered and have realistic shadows. There are multiple backgrounds and backdrops but the colors aren?t very vivid. As you can imagine, the physics engine is pretty good. Even the slightest movement of an object will affect the outcome!
Sound
The sound is pretty good in this game. Each object has it own sound effect. There is some mumbling from a scientist, you can adjust how frequently he makes comments, or turn his comments off entirely. There are a few selections of background music to choose from, if you still don?t like what you hear, you can use an audio CD for background music.
Longevity
There is no multiplayer in this game. There are a little over than two hundred puzzles to solve and it will take you a while to go through them. There are multiple solutions and you get rewarded for not using all the pieces available to you. You can also build and tweak your own machines the only limit to that is your imagination.
Appropriateness
I only have one complaint about this game and I will be honest that it spoiled my whole attitude towards it. First and foremost this game is rated E for everyone and it geared towards kids 8 and up. I installed the game and loaded it up. I?m sitting at the main menu and that mumbling scientist utters this: ?Do you know what that means? That d**n thing does not work!? I was quite surprised to hear that comment in a game geared towards kids. I certainly would not want my children talking like that, especially at that age. Other than that major flaw this game is fine.
Final Ratings
Game Play 17/20 Graphics 7/10 Sound 8/10 Controls 5/5 Stability 4/5 Appropriateness 47/50
Final Score 88%
{pgomakase}