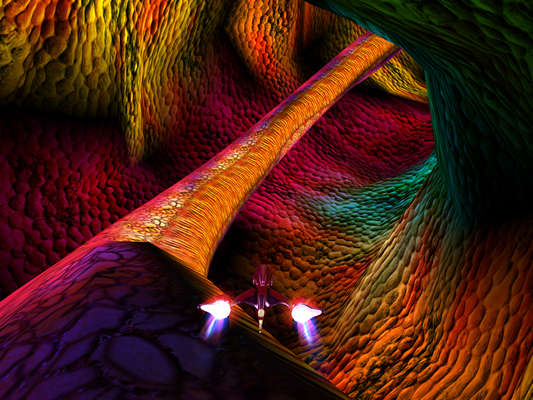 System requirements
OS: Windows 95, Windows 98, Windows 2000 CPU: N/A RAM: N/A HDD: 60 MB VIDEO: DirectX compatible graphics card SOUND: DirectX compatible sound card Age: 10+
I first played Mega Race back in 1996 when it came bundled with my Packard Bell 486. (I didn\'t know any better) Back then I remember the graphics were a bit blocky, but most of all I remember the annoying announcer Lance Boyle. Overall it was a fun but cheesy game. I never played the sequel, I didn\'t know there was one. As soon as I heard there was a third release, I had to try it out of pure curiosity.
The graphics have improved quite a bit, but the demo doesn\'t have movies in it like the original. Lance Boyle is still there too, you don\'t have look at him but he will be there shouting at you during the race. This is not your average racing game. In the demo you can play three modes practice, arcade and catastrophe. In the practice mode you can do races specializing in your attack, defense and racing/speed skills. In the arcade mode you get to race against seven others in the mouse gut map. Anything goes, you can win by eliminating the others, but defense and speed are important too! Finally there is catastrophe mode, in this race you have to survive the track. You will encounter slow down slime, falling rocks and giant insects. In the full version of the game you will have champion mode and multiplayer as well. No matter what mode you decide to play, you can always alter your megaracer. You can switch your mode to shield mode, kill mode or speed mode.
In the arcade mode you have three megaracers to choose from. They are titled Big, Vulcain and Royal Badness. When choosing your racer you have many stats to consider. These include max speed, acceleration, brake, handling, life and energy. All of these are important so choose wisely.
From a Christian standpoint, this game is pretty good as long as you don\'t get offended by silly comments. Lance will shout out during the race things like \'Die like a man big guy!\', \'I can smell your fear enforcer\', and \'Go killer boy\'. That\'s not too bad though. If you find good ol\' Lance annoying you can turn off his comments. By doing that I found it difficult to know which mode I was in (speed, shield, or kill). The game was easy to install, all you have to do is unzip it. There is a separate program to run to configure your video card and mode.
For controls you can use keyboard or joystick. My joystick was detected but was not working well with the game, I could not control it. So I used the keyboard. The sounds effects were good, however Lance\'s comments can be annoying. There seems to be one music track that was techno/dance style. The graphics were good and ran smoothly and the levels were detailed and very colorful. Much better than the original. The game ran well in Windows 2000 however, I did encounter one glitch. When you exit a race it gives an error about accessing a memory card. Looks like they overlooked that when they ported it from console to PC. Other than that, the game ran great. If you like racers, this one is unique and has lots of eye candy.
Final Ratings
Graphics A Game play A Sound B Interface B Stability B Offensive Content B
Overall B