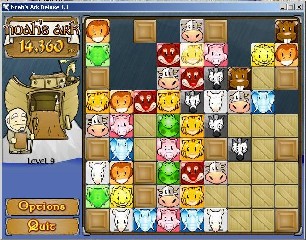 System Requirements
OS: Windows 95, 98, 2000, ME, XP CPU: 300mhz RAM: 64MB VIDEO: 16 or 32 bit color SOUND: Direct X compatible Age: Everyone
You can download this demo at http://www.popcap.com There are three different game types: Action, Strategy and Puzzle. I honestly didn\'t see much difference between the Action and Strategy modes except that the Action mode is faster paced. In the Action and Strategy mode you have to match up the animals 2 x 2 and you must match them quickly as water is rising. If the water level gets too high you lose. The puzzle mode is completely different. In this game type you have to swap around animal pieces so you can make matches of 3. In the demo the Puzzle mode is timed and you can only play for a minute or so. The demo also limits you to playing 10 times.
How do I play the game?
The common goal in all the game types is matching up animals. When the water level is rising you can lower it with every match you make. All the game modes offer easy, medium and hard difficulty levels. If you have trouble finding your next match there is a hint system that will brighten up your next move for you. This of course can be disabled. Like Mahjong, you may run out of moves. If this happens, the game will shuffle the tiles for you with a slight score reduction.
What is in the full version?
The full version will give you unlimited play. You will also be able to add your information to the high scores list. (this is disabled in the demo.) Maybe the full version\'s Strategy mode will truly be turn based like it says in its description?
Appropriate?
From a Christian perspective this is a biblically based game and I see nothing wrong with it. People of all ages will enjoy this game.
Overall experienceEase of use
The game is fun to play and it\'s easy to maneuver. The graphics are simple but good for this game type. The music and sound effects are in ogg vorbis format. The background music loop is pleasant and the rain and voice sounds are good too. Installation and removal is simple and the game is stable without any problems. If you wish to purchase this game it\'s $19.95. I\'m sure any puzzle lover will enjoy this.
Final Ratings
Graphics B- Game play B+ Sound C+ Interface B+ Stability A+ Offensive Content A+
Overall 84% B