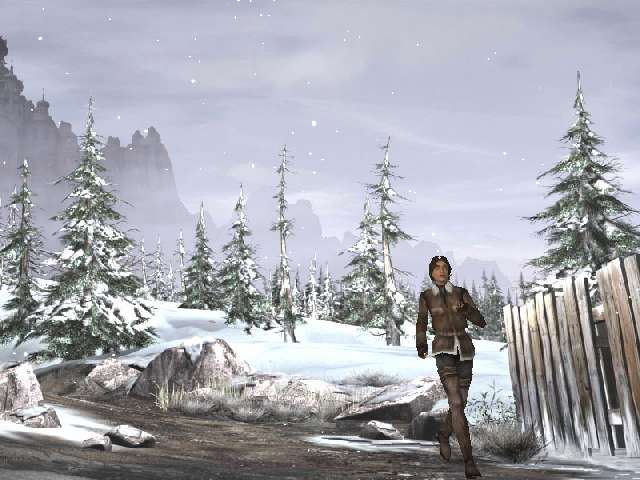 Story
Kate Walker has left her home, money, friends, and job behind her in order to help her friend, Hans Voralberg, find the supposedly mythical island of Syberia. But it\'s a long journey, Hans isn\'t doing so well, many people are saying he won\'t make it at all! And as if that weren\'t enough, Kate\'s boss has gone so far as to hire a detective to bring her back home!
Game play
Greatly improved since the last game, a lot of people complained that the first game was too easy, this has been fixed, in my opinion, although every now and then I found myself looking at a walkthrough. It is still a point and click game that makes sure you have to listen to everything the people you will talk to say. One more thing I should mention is though you won\'t be doing much pixel hunting, it\'s still there, and it\'s rather annoying. B+
Graphics
To tell the truth, I wasn\'t as impressed with these graphics as I was with the first game. For example, When I played the demo, one of the cutscenes looked incredibly blurry and pixilated. I thought it was because it was an Internet download, but that\'s how it looks in the full version as well. Some things in the background look like they were cut and pasted on with MS Paint, and some look painted and kind of ruin the realistic feel of the game. On the plus side, the character models for this game have much more detail and look much better. Overall, the graphics are not bad, but could have been better. B-
Sound
The voice acting is wonderful, I only remember thinking, \'That could have been better?\' once. The best of all is probably Hans, he sounds just as he should, although he doesn\'t talk that much really. The music is good, the tribal songs are fun to listen to, but for the most part the music is like it should be, nice but not real noticeable. A
Stability
I encountered no glitches in this game whatsoever using a lower end computer and just enough space to install this game.
Content
Depending on your standards, it is either worse or better than the first game. First I should mention that there is about a dozen mild curses (usually coming from the lawyers in New York), the worst probably being the \'s\' word. The Lord\'s name is taken in vain 5 or 6 times. At one point in the game, you are sent to a monastery to heal Hans, the patriarch there is portrayed as a cold, heartless, man who seems to care very little of saving anybody. Eventually, Kate will just some sort of herbal candle to heal Hans instead, the way he is healed seems like a kind of magic, but in no way resembles real witchcraft. On another level, you meet a \'spirit woman\', who will also try to heal Hans with a sort of magic, it is also worth mentioning that at the beginning of this level, Kate is shown nude, however covered with a blanket. Near the end of the game, one of the \'villains\' will be torn apart (implied). You will also encounter a lookout, but if you try to talk to him, he will fall over and his arm and head come off. There\'s no blood, and it is shown from a distance, but it\'s still pretty gross. C-
As a game
Gameplay 18/20 Graphics 7/10 Sound 9/10 Stability 5/5
Overall 8/10
For a Christian
Violence 8/10 Language 6/10 Sexual Content/Nudity 9/10 Occult 7/10
Overall 7/10