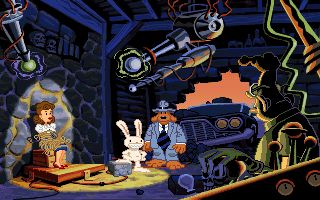 Graphics
Pretty good for a 10-year-old game. Although if you are used to games like \'Final Fantasy\' or \'Silent Hill\', you will more than likely be no fan of \'Sam and Max\'s\' graphics.
Story
You play Sam (a Canine Shamus) and Max (a hyperkinetic rabbity thing), the freelance police. Travel all over the US on the trail of a sasquatch named Bruno kidnapped from his place at the Hall of Oddities, and on the way visit locations like The World\'s Largest Ball of Twine, The World of Fish, and The Mount Rushmore Dinosaur Tarpit.*
Sound
The sound did not work on my PC, so I cannot comment on it.
Game play
This has to be one of the best adventure games ever, the puzzles are very hard, they vary from choking a cat to get your commissioner?s\' orders to replacing a wig with a squash.
Content
The parental warning on the box is a joke, I just thought I\'d make that clear. Cursing is probably the worst flaw in this game. Although it is VERY mild it\'s used pretty frequently. There are several mentions of Max not wearing pants, which I found humorous, not offensive. Violence is cartoony and poorly animated with the worst thing being a poorly animated severed hand found in the carnival. Finally there is some magic cast by a shaman in the game.
Overall
I would recommend this for ages 11 and up or those who just need a good laugh, since it isn\'t hard to find on eBay (And fairly cheap too) and easily one of the funniest games out there.
Final Ratings
Graphics C Story B Gameplay A+ Content C--
Overall B