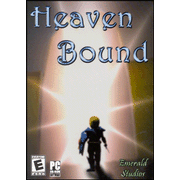 System Requirements
OS: Windows 98/Me/2000/XP CPU: Pentium 500Mhz RAM: 128MB HDD: 600MB VIDEO: 32MB Direct X 8.1 compatible SOUND: 16 bit Age: Everyone
Based on the famed Pilgrim\'s Progress novel by John Bunyan, Heaven Bound is set in a world of Christian Allegories. Our lone adventurer, Christian, must find the narrow pathway leading to Heaven. He is aided on his journey by Evangelist and other characters he meets along the way. Beset with trials and tribulations he must overcome ancient mysteries and vicious demons. Seek always the prize and do not be discouraged, for though the road is long and hard, great indeed is the reward.*
How do I play?
So you want to go to Heaven? Well talk to people around the towns and see what they have to you. What, they don\'t want to talk? Well seek the evangelist, he\'ll tell you what to do. Follow his directions and you\'ll begin your journey. When you start the game, the evangelist will give you the staff of Moses to ward off demons. To charge it up, find the altars and answer some bible questions correctly and get ten charges for each correct answer. There are some jumping puzzles in this game, the demo has a second level dedicated to jumping across poisonous swamps with sinking stones. Very challenging and kind of annoying. I believe the full version is a tad easier. :) There\'s more than jumping around so that\'s good.
What kind of enemies are there?
From what I\'ve seen in the demo you will encounter little demon looking monsters. There are bosses in this game so be prepared! The AI was decent, the enemies will attack when you hit them or come close to them. Often times you can lure them into danger and take advantage of their stupidity.
Glitches?
I\'ve encountered a few bugs along the way. For starters the game detects your joystick and there is no way to disable it. I had to unplug mine to stop my character from moving out of control. I also experienced trouble loading some of my saves. For example I would load my save and the mouse would hover over the new game and a new game would load if I didn\'t move my character right away. (This made dieing VERY frustrating). On a positive note, the developers really do care and were very responsive to all the comments I have made. The final version will have many tweaks so that\'s always good news.
Appropriate?
This is a Christian game so naturally it\'s pretty clean. It\'s all about spreading God\'s truth to those who do not know him. Along the way you\'ll fight demons and bosses but there\'s no blood, just cool explosions when you defeat them. I liked how they included a message on how to become saved right in the game menu, way to go!
Overall experienceEase of use
This game is easy to install and play. The graphics remind me of Final Fantasy VII in a way, not sure why. The characters are cartoony and the environments are decent, not a whole lot of detail but you can tell what objects you have to interact with. Although the buildings look 3D at certain angles they are paper thin, kind of like a Hollywood studio. The voice narration is good and very fitting. There are some sound effects when attacking monsters, nothing spectacular. The game engine does support OGG music files so that\'s cool. There is no multiplayer from what I\'ve seen, nor can you adjust the difficulty. So the replay value is a bit limited. If you like adventure games and don\'t mind the occasional jumping puzzles Heaven Bound is worth checking out. It\'s got a great message and you might learn more about God\'s word while having fun! Check out the demo! The full version of the game retails for $39.95.
Final Ratings Graphics B- Game play C Sound B- Interface B Stability C
Offensive Content A+
Overall 76% C