System Info:
3DS
Developed By: Nintendo
Released: March 27th, 2011
Price: $169
At long last the 3DS has arrived, but is it worth the $250 price tag? Does it live up to its claims? I never had a DSi so the camera and multimedia add-ons are new to me. Shortly after the warranty of my DS Lite expired I started experiencing the common trigger issue. I was in the market for an upgrade and with a $50 trade in credit for my DS Lite, I decided to get a shiny new Teal 3DS.  (Rest assured it was in working order when I traded it in).
So what is there to gain by getting a 3DS? The main selling point is that the 3D effects don't require glasses. The images typically won't jump out at your face but they will add substantial depth and improved graphical rendering. You can use this technology to take 3D pictures too. These new features will take some getting used to. One word of caution is that it's not recommended for children under the age of 7 to be watching the 3D features. You can disable or reduce the level of 3D effects at any time and play all of your regular DS/DSi games in standard 2D mode.
As great as the 3D mode is, it does have its drawbacks.  If the angle is just right it works flawlessly and I didn't experience any headaches or anything out of the ordinary.  However if you shift the 3DS slightly or are not perfectly centered you can easily become disoriented.  With the 3D effects enabled it's hard to watch other gamers over their shoulders.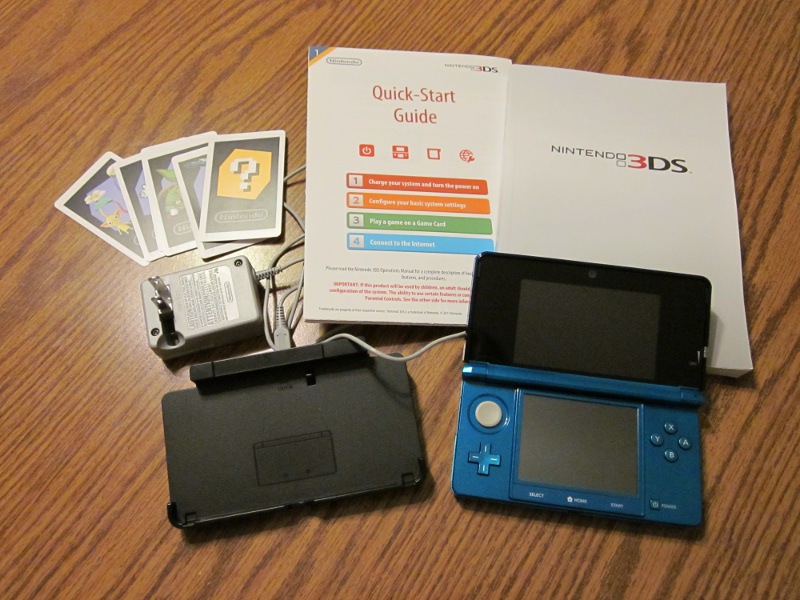 Highlights:
Strong Points: Innovative 3D technology that can be adjusted and disabled with a slider; new input methods including motion sensors, an analog joypad, and a 3D camera.
Weak Points: Expensive; weak starting line up of games; battery life could be better; 3D effect can cause eyestrain in some people, and has a small sweet spot.
Moral Warnings: None! I like that it offers parental controls.
Another bonus is that it comes with an 2GB SD card for storing your pictures, purchased games and some (not all!) save game files. Wireless connectivity is a given and you can share games and content with friends and family members. Even though WPA/WPA2 modes are available, older DS games will still require WEP or no encryption to work properly. You can enable or disable the wireless and tag mode if you want to keep your system offline. If your system is online, updates can be sent to the device automatically. If you use a flash cart device, be warned! There are rumors that Nintendo won't tolerate piracy or home brew applications and has even threatened to brick devices found with them. I will miss the GBA slot my DS Lite provided.
The bundled games are entertaining and show off the system's features quite nicely. My favorite game on it is Face Raiders.  In this game you start by taking a picture of yourself or a loved one.  The game will guide you to help line up the eyes and mouth so it will morph into the game correctly.  I was disappointed that it incorrectly guessed my gender and the gender of a couple of my kids.  It doesn't impact the game if it gets that part wrong!  The game play is space invaders like where you have to shoot all the incoming heads and then defeat the boss at the end of each level.
Every level starts off by you taking a new picture and your goal is to rescue the faces from previous levels.  The faces will animate and will taunt or even kiss you as an attack.  Sometimes the faces will have disguises like glasses, clown makeup or mustaches.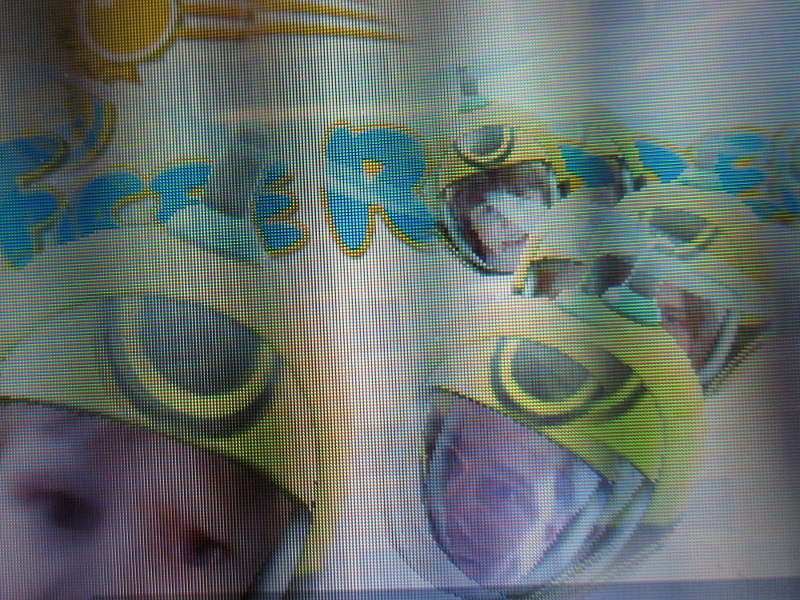 The Augmented Reality (AR) games are a trip and they can work in 2D mode just fine.  AR mode requires you to focus on one of the six cards included with the system.  Once it's calibrated to the card you will see objects interact with the environment behind it.  There are many mini games including archery, fishing and my favorite: graffiti, where you watch your doodle become 3D animated and you can interact with it.
The 3DS interface is very similar to the Wii one with various channels.  The browser and 3DS store are not available at this time.  Not surprisingly, there's a Mii channel where you can create your Mii from scratch or have it generate one from a picture it takes. You can enable tag mode to collect and share Miis with other people.  Lastly, I like how the 3DS's pedometer will calculate how many steps you take too.  The 3DS rewards you for giving you coins for walking.  You can use these coins to buy puzzle pieces and help in the built in Mii games.
Streetpass mode is very similar to tag mode but it goes a bit further: it tags all of your games in your library and the built in games at the same time. For example in Ridge Racer 3D, I can race against the ghost of a person who tagged my system if they own the game too.   Other games like Street Fighter IV 3DS take advantage of this and will automatically send your fighters to nearby 3DS's.
The hardware is much different than my DS Lite. The AC Adapter is not compatible. It might be the same kind that the DSi used, I'm not certain. I like how the 3DS comes with a convenient charging base.  Not surprisingly, the 3-5 hour battery life is much shorter than the DS Lite. The new graphics and cameras can take the blame for that. There are three cameras, two on the outside and one on the inside.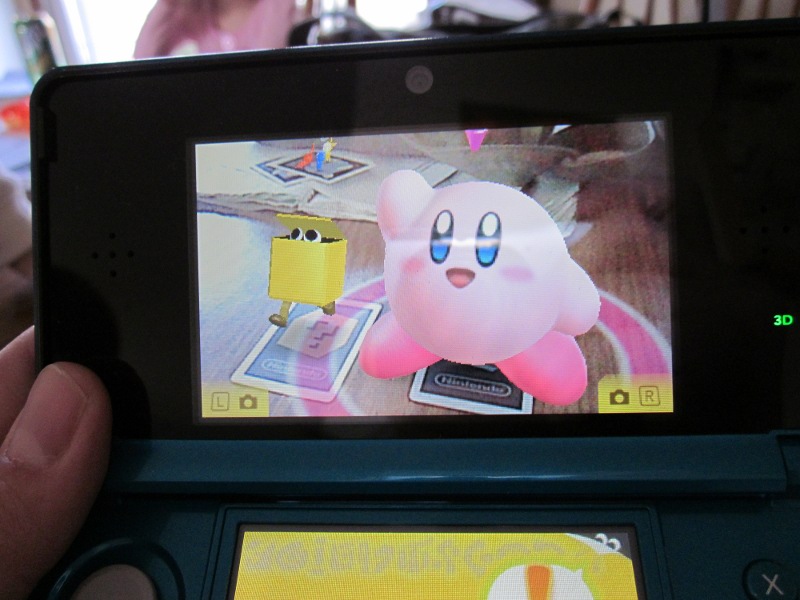 Other changes to note include a much shorter stylus which is extendable and tucks away in the back of the 3DS.  The triggers are still there but much smaller now, hopefully they are more durable this time around! The D-pad and A,B,X,Y buttons still remain.  A nice new addition is the circular analog nub that works quite well!
Below the bottom screen you'll find touchpad buttons for Select, Home and Start.  The power button is to the right of those.  There are slider switches for the volume and to enable and disable the wireless and 3D effects.  The headphone jack is front and center.  The SD card slides into the left and the game cartridges go in the back next to the AC connector.
At launch, the 3DS was released in two colors: teal and black.  Both have black around the top screen and shiny lids that are bound to show every fingerprint, smudge, and scratch. Like any other DS, screen protectors are a good investment, especially if you frequently play games using the stylus.
According to the three language, three hundred page manual, the battery is good for roughly 500 charges.  When your battery is depleted, you can order replacements and get to it by removing four Phillips head screws on the bottom of the 3DS.
The parental controls are pretty thorough.  Since this 3D technology is not recommended for children 7 and under, you can disable the 3D in the parental controls section.  You can also restrict games by rating and disable the browser, online interaction, multimedia sharing and friend registration. Keep in mind that these restrictions are only effective with other 3DS systems and don't include DS or DSi systems.
Quite honestly, if you're buying a system for a child I'd still recommend a DSi over the 3DS. For starters, they're much cheaper and I really don't see a point in getting a 3DS if you're not going to be using the 3D capabilities.  Technically speaking, I'm glad it's finally caught up with the wireless encryption standards.  I especially like how it raised the bar for the video gaming industry.  The 3D effects are awesome and we have a couple titles that take advantage of them.  Expect some 3DS reviews soon!