First of all, thanks a lot to HIS for giving us the opportunity to review these video cards, for the biggest CCGR hardware review yet!
About HIS
HIS is a graphics card company that primarily builds ATI-based products. They are a Christian company as well. This is part of their company statement: HIS was established in 1987 with the mission to produce the highest quality graphic cards in the industry. Besides strong devotion to excellent products and services, HIS has been conducting business with the aim to "Glorifying God". Honesty and integrity are the two key principals of how HIS are conducted. Ethical business practice has been an everyday commitment to our clients, vendors, and investors. Most of us pick a video card based purely on chipset and price. It's good to see HIS is more than a typical ATI card manufacturer - they have a mission that CCGR can agree with. Even so, this review is based on the quality of the product reviewed; no unnecessary bias has gone into the review process.
HIS X1300 IceQ Turbo 256MB AGP
With the HIS X1300 IceQ Turbo AGP, HIS took a standard ATI RADEON X1300 GPU with 256MB of RAM, and attached their unique IceQ cooling system to it. As a result, they are able to clock the GPU and RAM to X1300 Pro speeds, and offer the card at more competitive prices, as well as lower temperatures. The video card also claims a noise level of less than or equal to 20 decibels, which is fairly quiet.
Key ATI/HIS X1300 Specifications
600MHz GPU core clock (normally 450MHz)
800MHz DDR2 RAM (normally 500MHz)
4 Pixel Shader Processors (approx. equivalent to 4-pixel rendering pipelines)
2 Vertex Shader Processors
256MB of 128-bit wide DDR2 RAM (be careful, not all vendors or models use 128-bit RAM!)
Pixel Shader Model 3.0 support
ATI Avivo video playback technology
Dual-DVI support (needed to support super-high resolution displays)
Of particular note is the Dual-DVI, which allows you to use those nice 30" displays, and the very high GPU and Mem clock. It's also good to see HIS not cut any corners by using a 64-bit (or even 32-bit!) memory interface, which can cut down performance dramatically. ATI chipsets are not the only ones to offer such features to board makers; NVIDIA does it as well for the lower end parts. Always pay attention, and get parts with the widest memory configuration available. At first glance, this part's specifications reminds me a bit of the old 9600XT. It had 256MB of 128-bit RAM, as well as 4 pixel pipelines. However, ATI has come a long way since then, and the newer chipsets are a lot more efficient. They also support Shader Model 3.0, which really helps games take advantage of the newest DirectX 9.0c features. In order to simulate a normal, not factory overclocked X1300, we downclocked the GPU to stock X1300 speeds. The results show up on the benchmarks labeled as 'ATI 1300 AGP'.
HIS X1600 Pro IceQ 512MB DDR2 AGP
The HIS X1600 Pro IceQ is HIS & ATI's answer to the mid-range market. Like the X1300 Turbo, it has been adapted for AGP, and has HIS's unique IceQ cooling system attached. This enables some fairly decent overclocking results, which will be discussed later.
Key ATI/HIS X1600 Pro Specifications
500MHz GPU core clock
800MHz DDR2 RAM
12 Pixel Shader Processors (approx. equivalent to 12-pixel rendering pipelines)
5 Vertex Shader Processors
256 or 512MB of 128-bit wide DDR2 RAM
Pixel Shader Model 3.0 support
ATI Avivo video playback technology
Dual-DVI support (needed to support super-high resolution displays)
The most notable new feature compared to the X1300 is the improved pixel pipelines. This is a significant step up from the X1300, and should put the performance in a different category. Instead of processing 4 pixels per clock cycle, it can do 12. The GPU and RAM speeds are also decent. Like the X1300, this model also has Dual-DVI for very high resolution displays. We had fairly decent luck overclocking the X1600 Pro, thanks to HIS's excellent IceQ cooling system. Though we were unsuccessful in overclocking the RAM, we were able to get the GPU fairly stable at 630MHz, which is 130MHz over the stock GPU clock! We show the results on the benchmark graphs as 'ATI 1600Pro OC'd'.
The competition
In this review, we are comparing both of these video cards to the very popular NVIDIA 6600. The 6600 can be had at the time of this writing for under $100 at some places online, so it is a much closer competitor to the X1300 Turbo than the X1600 Pro, but it will still be a useful comparison. The card we used was an ASUS N6600/TD with 128MB of RAM. (Thanks, Lou!) The specs are as follows:
Key NVIDIA 6600 Specifications
300MHz GPU core clock
500MHz DDR RAM
8 pixel rendering pipelines)
3 Vertex Shader Processors
128MB or 256MB of 128-bit wide DDR RAM
Pixel Shader Model 3.0 support
NVIDIA PureVideo video playback technology
Unfortunately, most 6600 GPUs do not feature Dual-DVI, and are limited to 2048x1536 resolution displays.
Benchmark System Specifications
Unfortunately, we do not have a high-end AGP system to test these on, but it seems fair to say that most users of an AGP system would have an older PC anyway. Using the best parts we have available, we built the 'Benchwarmer'. The hardware is as follows:
AMD Athlon XP 2500+ CPU (1.83GHz, 333MHz FSB)
ABIT KW7 Motherboard, using the VIA KT880 Chipset
1GB of DDR400 RAM, Dual-Channel, CAS 2.5, 2T command rate
160GB Seagate 7200RPM Hard Drive with 8MB Cache
Onboard sound and ethernet
Windows XP Pro
Windows XP was installed with Service Pack 2 slipstreamed in. No other Microsoft updates were installed. There was no anti-virus software or anything of that nature installed. The driver versions were as follows:
Via Hyperion 5.08A chipset driver
For the ATI cards: Catalyst 6.04
For the NVIDIA 6600: ForceWare 84.43
Games Benchmarked and Setup
3DMark06
AquaMark 3
Far Cry 1.33
Half-Life 2 (current Steam version)
Quake 4 1.0
Unreal Tournament 2004 ver. 3369
All games and benchmarks were run at the resolution of 1280x1024, except for Aquamark3 which is set to 1024x768 and cannot be changed. Far Cry, Half-Life 2, and Quake 4 were benchmarked using the HardwareOC BenchTools. UT2004 was benchmarked using UMark. Far Cry used the PC Games Hardware Demo, Half-Life 2 was benchmarked with the Anti-Citizen map, Quake 4 used the Guru3D demo, and UT2004 was tested with ONS-FrostBite.
Benchmark Results
3DMark06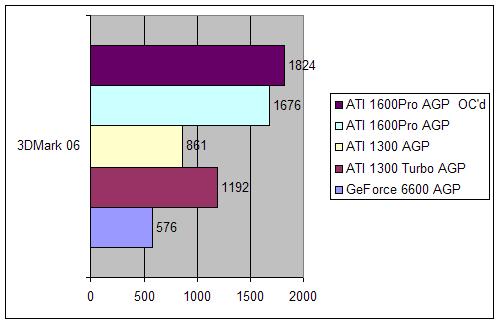 *When running the 6600 with ForceWare 84.21, the 3DMark06 score was 741. I was a bit surprised with the results, especially with regards to the 6600. On the other hand, 3DMark06 is not a game, nor are any games written anything like that. It does help us understand the relative power of the pixel shaders, however. The X1300 Turbo is significantly faster than a default X1300, and the X1600Pro is a sizeable jump after that. Overclocking offered a respectable improvement. All of HIS's ATI cards do well here. AquaMark 3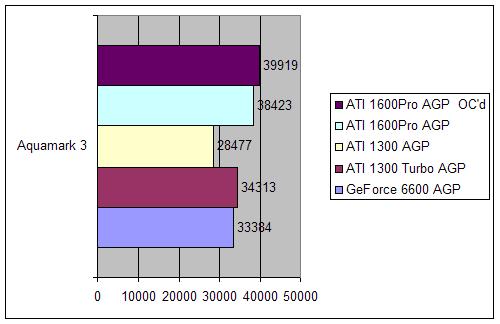 On AquaMark, we see a much closer race between the GeForce 6600 and the X1300 Turbo. Aquamarks are actually the average frames per second, multiplied by 1,000. So, it's only different by 1 frame per second. Nevertheless, it's interesting to see a 4-pixel pipeline card beat out the 8-pixel pipe'd 6600. The 12-piped X1600Pro does better, as you would expect. Overclocking helps somewhat, though not as much as it did for 3DMark06. Far Cry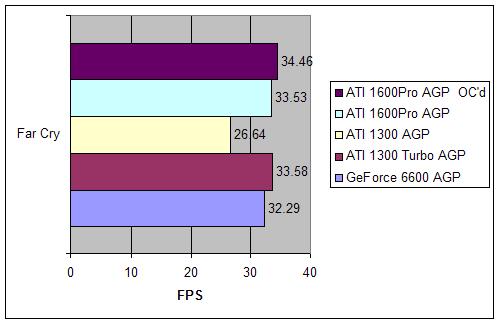 These are interesting results, in that except for the X1300 non-Turbo, they are all fairly close. The difference between the 6600 and the highest performing X1600Pro overclocked is only 2 frames per second. These results do suggest that the CPU may be a limiting factor here. Nonetheless, a remarkable result is that the X1300 Turbo is the same speed in Far Cry as the X1600Pro. (The .05 difference is too close to consider.) Half-Life 2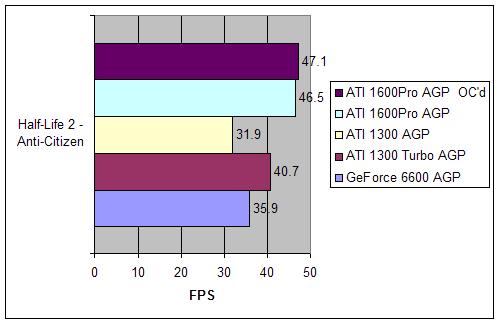 It's amazing what a few hundred MHz can do, as the X1300 Turbo consistently posts better results than the NVIDIA 6600. The X1600Pro also posted significantly better results, thanks to its improved pipeline count. Quake 4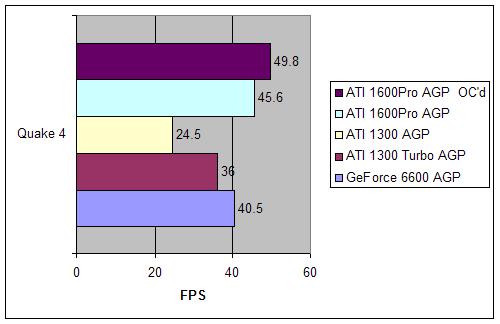 Here, the NVIDIA can strut it's OpenGL muscles a little bit by manageing to surpass the X1300 Turbo in a benchmark. Even so, the raw power of the X1600Pro overtakes that easily. The overclocking of the X1600Pro really helps a lot in Quake 4, as it improves the score by a full 4 frames per second. Unreal Tournament 2004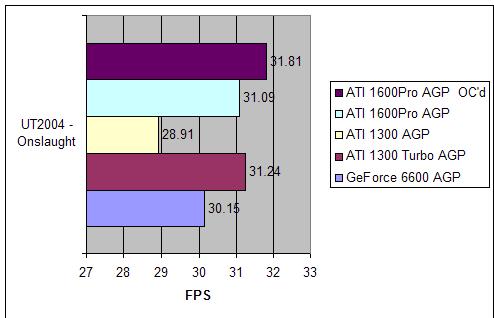 This is another case where the CPU power of the AMD Athlon XP 2500+ seems to be limiting the frame rates again. Nevertheless, some trends are still following suit. This is also another case where the X1300 Turbo is very close to (or slightly faster than) the X1600Pro.
Conclusion
So what did we learn from this article? Well, a few things. Video cards like these perform respectively well at 1280x1024, but would probably perform better at lower resolutions, where the performance delta between them would be more dramatic. Also, for gamers looking at any of the cards listed this review should carefully consider the CPU they are using to drive it. A CPU around the speed of the benchmark machine (an AMD Athlon XP 2500+) would do well with any of these, but perhaps not much better with a top of the line card. The HIS X1300 Turbo IceQ 256MB seems like the best value in this comparison. Definitely avoid the X1300 non-pro/turbo from any manufacturer, and the X1300 Turbo's street price is within a dollar of the NVIDIA 6600 AGP at the time of this writing. For the same price, it's a no-brainer - the HIS X1300 Turbo takes the cake. The HIS X1600Pro IceQ 512MB is a bit of a mixed bag. In it's current street price range, the competition is fierce. Though this is probably the only card with 512MB, in practice rarely is more than 256MB useful. With competition like the NVIDIA 6600GT, vanilla 6800 and the 6800GS on the high end, it's a closer battle. Nevertheless, the 256MB version of the HIS X1600Pro IceQ is much more attractively priced, and might be considered a better deal overall. It should also be considered carefully by those looking at the X1300 Turbo if their budget allows.