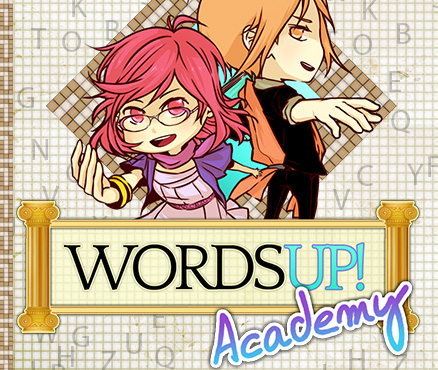 Game Info:
WordsUp! Academy
Developed by: CoderChild
Published by: CoderChild
Release date: May 12, 2016
Available on: 3DS
Genre: Puzzle
Number of Players: Single-player
ESRB Rating: E for Everyone
Price: $2.99
Thank you CoderChild for sending us a review code.
The 3DS eShop has an abundance of educational games. This edutainment game from CoderChild promises unlimited hours of fun and thousands of words to create.
In WordsUp! Academy there are six game modes to select from.
Story Mode: Here you will challenge the Academy's brightest minds, one by one. Battle to form more words in two minutes, and receive their approval.
Versus Mode: Select one of the Academy's members and play solely against them. You can even upload your scores to an online leaderboard.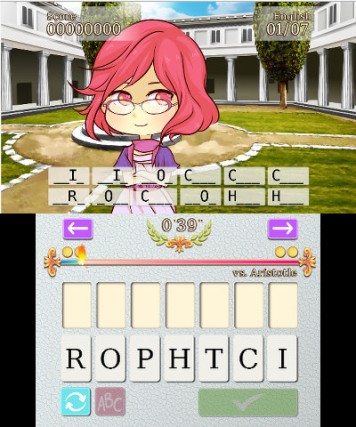 Highlights:
Strong Points: Thousands of words to make; Six different modes to play; Online leaderboards.
Weak Points: Opponents are incredibly difficult; No music for cutscenes.
Moral Warnings: Normally I'd say no issues, but certain word combinations were a bit strange (Arsed, Assed)
Free-Play Mode: This mode allows you to customize your battles against a single opponent. You can add more rounds, adjust the round time, and even the difficulty of your opponent.
Classic Mode: This is the original! This is all about how fast you can come up with words by yourself. Every correct word adds a little time to the clock.
Blitz Mode: Definitely the most frantic mode of them all. Every 30 seconds the letters you can use will change. This mode also allows high scores to be uploaded to a leaderboard.
Relax Mode: No time, no pressure. This mode allows unlimited time to form words, and is a great way to get faster at the game.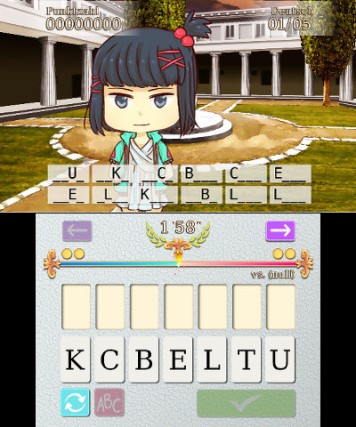 Score Breakdown:
Higher is better
(10/10 is perfect)
Game Score - 80%
Gameplay - 16/20
Graphics - 7/10
Sound - 7/10
Stability - 5/5
Controls - 5/5

Morality Score - 98%
Violence - 10/10
Language - 9/10
Sexual Content - 10/10
Occult/Supernatural - 10/10
Cultural/Moral/Ethical - 10/10
Gameplay is extremely simple in WordsUp! Academy. The player and the opponent must use the random set of seven letters they start off with to create as many four or more lettered words. The top screen shows all the words that can be possibly be made, albeit with only one letter revealed. Each mode allows slight changes to the gameplay, but remains consistent throughout.
Graphically, things look cute and the characters have a chibi-like aspect to them. Surprisingly, 3D has been incorporated, adding a nice layer of depth to the top screen. The music is also extremely relaxing. This helps to sink away hours trying to make as many words as you possibly can before your brain melts away. Much of my time with WordsUp! Academy was spent in Relax Mode. The calming music and removal of a time limit really made this mode incredibly enjoyable. Though, in Story Mode, the lack of music in the cutscenes is rather jarring and it feels rather empty without any sound playing.
There's an incredible amount of challenge to this game. The randomness of each game creates tension. I was caught off guard my first few games, and I found myself failing to see basic words that could be formed. At $2.99 this is basically a steal. The six game modes certainly provide many hours of replayability. Younger players will also benefit from simply being able to learn word spelling and critical thinking. I highly recommend WordsUp! Academy to parents and those who like a good word puzzle game.
-Kyuremu