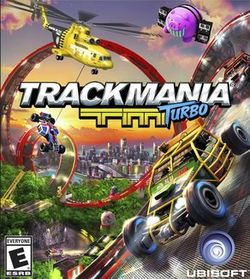 Game Info:
Trackmania Turbo
Trackmania Turbo (PS4)
Developed by: Nadeo
Published by: Ubisoft
Release Date: March 24, 2016
Available on: PC, PS4, Xbox One
Genre: Racing
Number of Players: Up to 100 online
ESRB Rating: Everyone
Price: $39.99
(Amazon Affiliate Link)
Thank you Ubisoft for sending us this game to review!
TrackMania first launched on PC in 2003 and the franchise has spawned several sequels and has over fourteen million registered drivers according to their TrackMania Forever website. TrackMania Nations Forever is free to play, but the newer and more robust games are not.  They are worth every penny though!  We have reviewed and enjoyed TrackMania 2 Valley, Stadium, and Canyon.  
TrackMania Turbo is not the first console version as there was a Wii and two DS releases before it, but it's the first for this generation of consoles, and the first to be released alongside the PC version.  Not only does TrackMania Turbo have the Stadium mode that everyone has grown to love, it also has Canyon Grand Drift, Valley Down & Dirty, and Lagoon Rollercoaster.  In order to play the International Stadium mode, you have to earn at least a bronze medal for each race in the previous modes.   Like the previous games, there are several difficulty bands: White, Green, Red, Blue, and Black.  Unlocking tracks in the harder difficulty modes requires numerous bronze, silver, and gold medals.  
Each game mode has a different type of car to go with it and they all handle differently.  The rollercoaster car is stupid fast, but fun to drive.  The terrain varies for each game mode as well.  Not all of the rollercoaster tracks are on rails; in fact, many of them are not.  Besides rails, you'll be driving on concrete, dirt, grass, and sometimes though water.  There are many obstacles to avoid like holes in the road, gigantic Matryoshka Dolls, blockades and sometimes you'll be required to jump through giant donuts.  There are other humorous decorations like giant pigs in the sky that say "I believe I can fly" on them and bulletin boards for "Try Hard 2: Try Harder".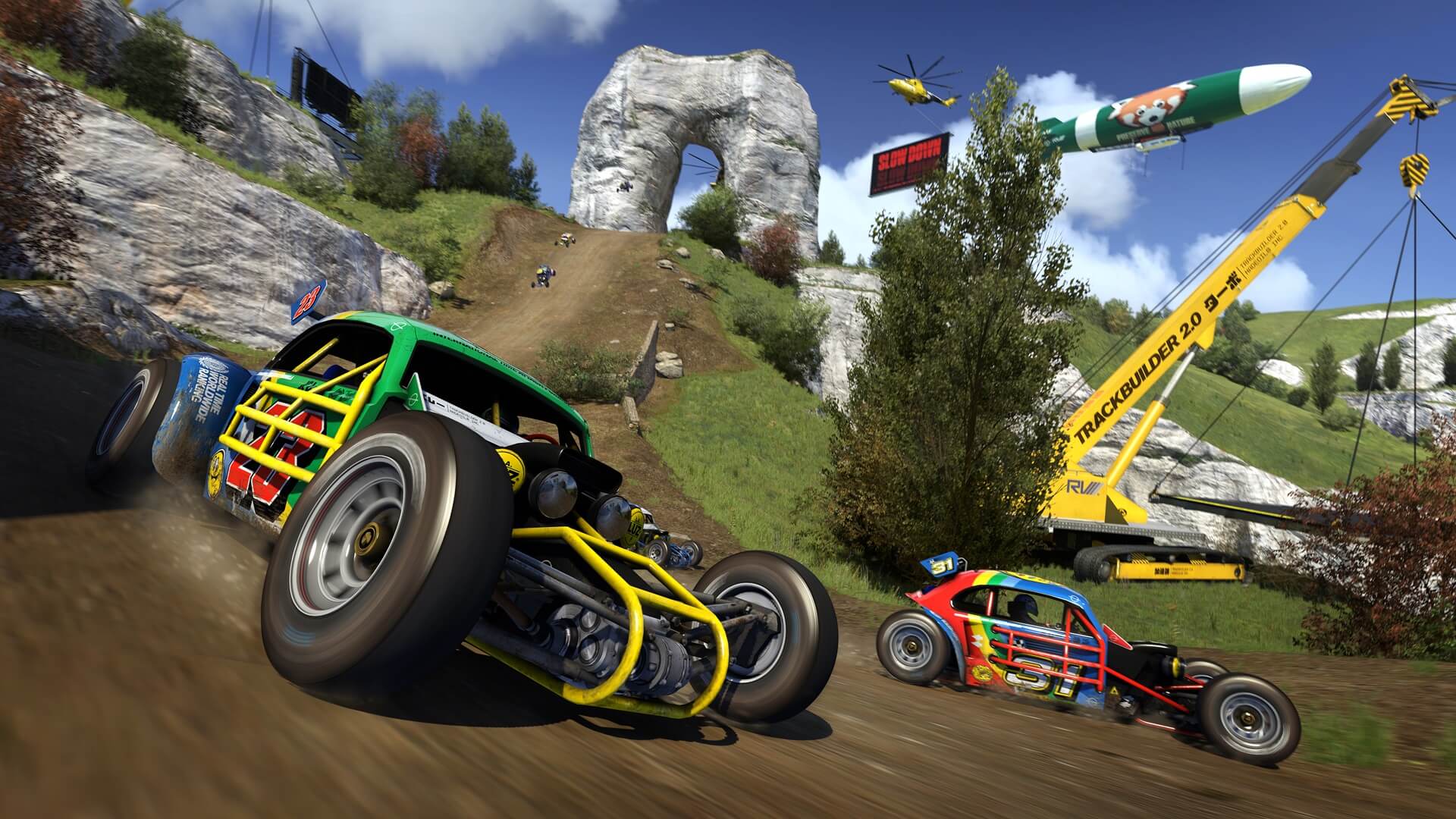 Highlights:
Strong Points: Lots of racing modes and tracks available both in single-player and multiplayer; plenty of people online to play against; can randomly generate tracks to keep the gameplay fair; easy to use track editor for creating and sharing tracks
Weak Points: Car customization is rather limited, game failed to launch once
Moral Warnings: Some of the tracks are described as "hellish"
Designing your own tracks is easy to do with the built in editor.  There are various difficulty levels for it including Beginner, Normal, and Advanced.  To make your own track you have to choose which game mode it will be for and the setting for it.  You can have it take place at sunrise, midday, or sunset.  Once the tracks and check points are in place the editor will automatically decorate it for you at the beginner level.  Before a track can be saved, it must be validated to make sure that it's playable and able to be completed.
Tracks can be randomly generated in the editor as well as in the multiplayer game modes to ensure a fair match.  There are multiple multiplayer modes including:
Hot Seat – Up to sixteen players can race back to back to aim for the fastest time.  Double driver mode is supported which allows multiple people to control the car's acceleration, braking and steering.
Arcade – Each player only gets three credits to try and get their name in the top ten list.
Split Screen – Up to four players can race against each other on their portion of the screen.
Secret/Mono-screen – Up to four players race together on the same screen.
Online racing is fun and allows up to one hundred similarly ranked people to race against each other.  The cars can overlap but do not collide with one another since you're racing against their ghosts.  In the solo campaign you can race against the various medals and even your friends!  When improving your own times, you'll race against your previous self.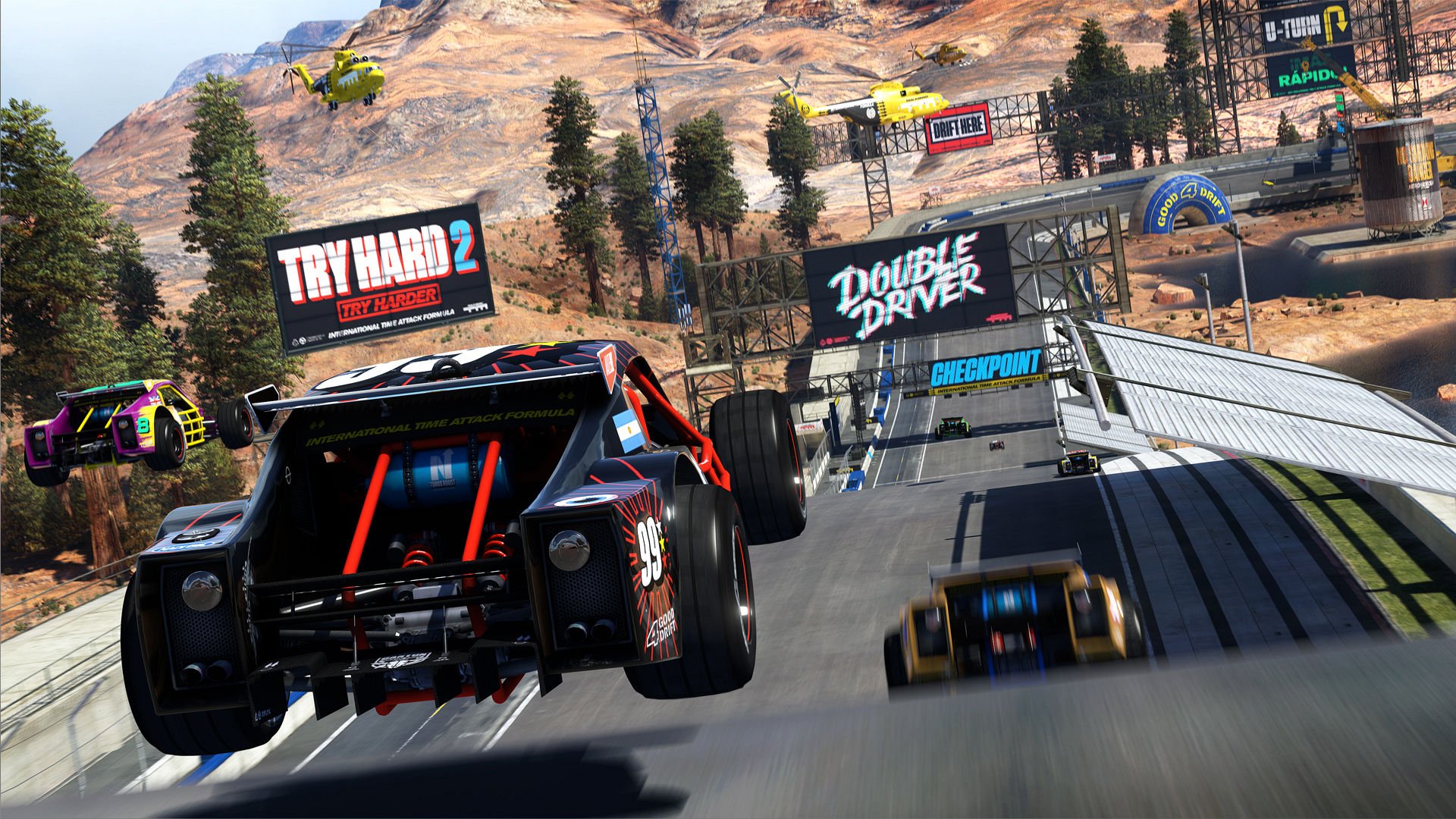 Score Breakdown:
Higher is better
(10/10 is perfect)
Game Score - 90%
Gameplay - 18/20
Graphics - 9/10
Sound - 9/10
Stability - 4/5
Controls - 5/5

Morality Score - 94%
Violence - 10/10
Language - 7/10
Sexual Content - 10/10
Occult/Supernatural - 10/10
Cultural/Moral/Ethical - 10/10
The graphics are very good with a lot of variety in backdrops.  Some of the tracks take place in canyons while others are on tropical beaches.  The garage mode lets you customize your cars, but it's very limited and automatically places stickers and decals for you.  You can add more decorative options by spending Uplay points in the integrated Uplay store.  
There's a wide variety of background music and I found it pleasant to listen to.  The voice acting is unique and I like how they use various languages to do the 3-2-1 countdown before a race.  The sound effects are believable and not too obnoxious.
Like many console games, there are loading screens.  However, in this game they are put to good use by sharing pro-tips like "shaking your racing partner and yelling in their ear to make it seem more real."  Other times there are inspiration quotes from Confucius, Robert Kennedy, Henry Ford, Mario Andretti, and Homer J. Simpson.  Generally speaking, this game ran great on my PS4, though I did have an error when launching it once.  
Overall, I'm very happy with Trackmania Turbo.  It brings back many great memories from playing previous entries, and it adds some new and challenging game modes as well.  Not only are there hundreds of tracks to play by yourself or with friends, there are also thousands of user created tracks to play on too!  Other than the word "hellish" being used to describe one of the tracks, I have no reservations in recommending this game to aspiring racers of all ages.