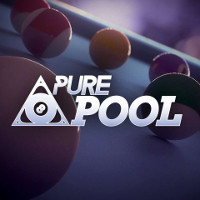 Game Info:
Pure Pool 
Developed by: VooFoo Studios
Published by: Ripstone Games
Release Date: July 29, 2014
Available on: PC, PS4, Xbox One
Genre: Sports
Number of Players: Up to two players
ESRB Rating: E for everyone
Price: $12.99
Thank you Ripstone Games for sending us this game to review!
I've never been an avid Pool player, but I do enjoy the game.  I've only played eight ball and Pure Pool's tutorial taught me how to play nine ball, killer and accumulator.  I like how easy it is to practice against the AI and challenge real players.  Another nifty feature is the DNA system.  If you cannot challenge a specific player, you can download their DNA and have the AI move on their behalf using their playing style.  (If you want an easy opponent use my PSN name!)
The player DNA captures how hard the player typically hits the ball and if they target balls that are closer or farther away.  Playing against random people online is fun in and of itself, but there are single-player tournaments available as well as the ability to make your own league.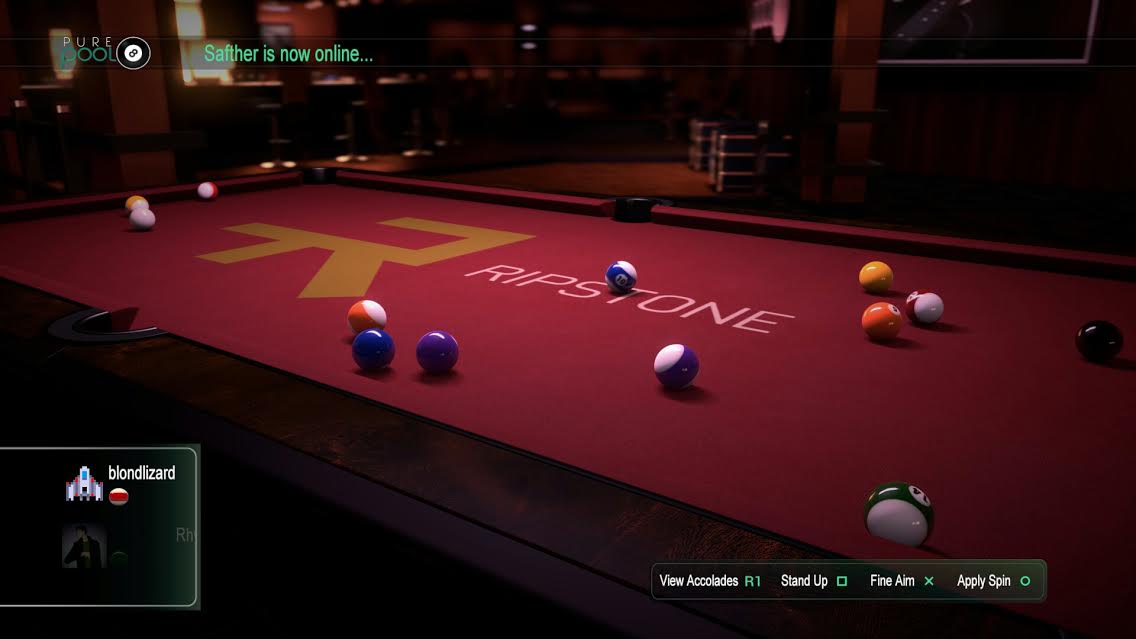 Highlights:
Strong Points: All the challenges and fun of Pool without the second hand smoke!
Weak Points: Can't change the music; will make you want a real pool table...
Moral Warnings: None!
The controls are pretty straightforward.  The joysticks control the angle of the cue and the square button backs out so you can see the whole table.  The triangle places the ball if needed and the O button applies spin to it.  When aiming your cue, there is a guiding line to give you the general direction of the  cue ball and the target ball.
There are many accolades and achievements available.  Some of them are funny including one called "Can I get my ball back?" for knocking a ball off of the pool table.  I have earned PlayStation achievements for winning 8 and 9 ball games.
There are many game modes and to do well in the career mode you'll have to master all of them.  Eight ball is where the players take sides and pocket all of their colored or striped balls.  In the nine ball game you must pocket the balls in ascending order.  I was able to win my first nine ball game by pocketing the nine ball after my assigned ball.  In the killer game mode, each player starts off with three lives and loses one with each turn that doesn't pocket a ball. Whoever loses all of their lives first loses the game.  Accumulator is very similar to nine ball where you have to take down each ball in ascending order, but points are earned depending on the balls value.  If the wrong ball is pocketed, the opponent gets the points.  Whoever has the most points at the end, wins.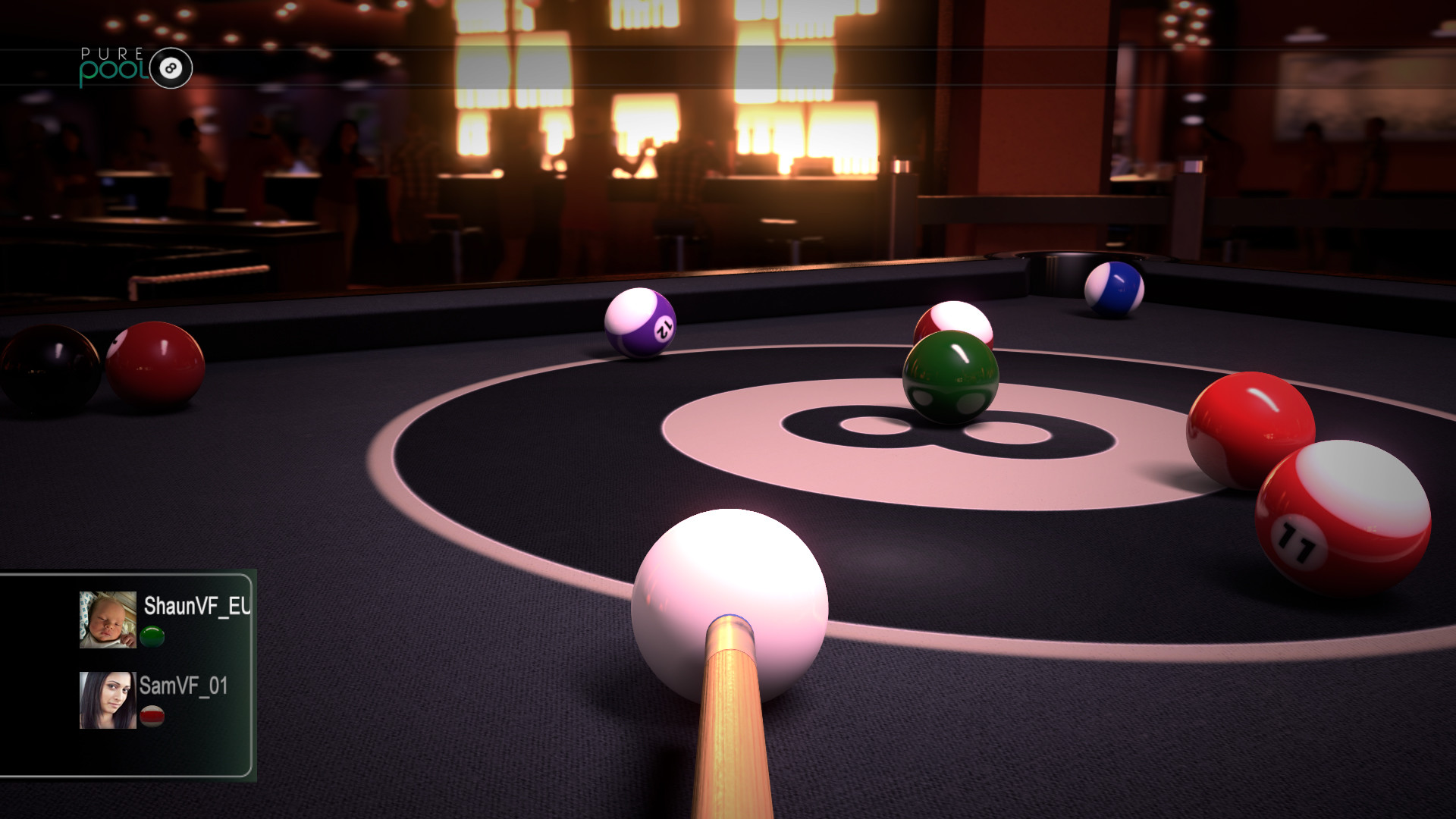 Score Breakdown:
Higher is better
(10/10 is perfect)
Game Score - 84%
Gameplay - 16/20
Graphics - 8/10
Sound - 8/10
Stability - 5/5
Controls - 5/5

Morality Score - 100%
Violence - 10/10
Language - 10/10
Sexual Content - 10/10
Occult/Supernatural - 10/10
Cultural/Moral/Ethical - 10/10
I like the cinematics at the end of the game.  When the eight or nine ball remains the game focuses in and you'll hear a heartbeat... the pressure is on!  If the shot is made you'll see a close up of the cue stick smacking the ball and the chalk blowing away.  These features along with other graphical options can be changed in the game's options menu.
The ambient noises are pretty good and sounds like the few pool halls I've visited in my lifetime.  The background music is jazz like and pleasant to listen too.  While I didn't mind the music, I was disappointed that there were no other genres to choose from like I was able to in Pure Chess.    
My kids enjoyed watching me play Pure Pool which is safe and fun for the whole family.  The online interaction is limited to only re-matching an opponent.  There is no chat, but player names will appear as they become online.  While I haven't seen any immature names, I have no doubt they are out there.  For the reasonable price of $12.99, Pure Pool is worth checking out.  It's certainly cheaper than going to a Pool hall, but in the long run it may make you want a real pool table.