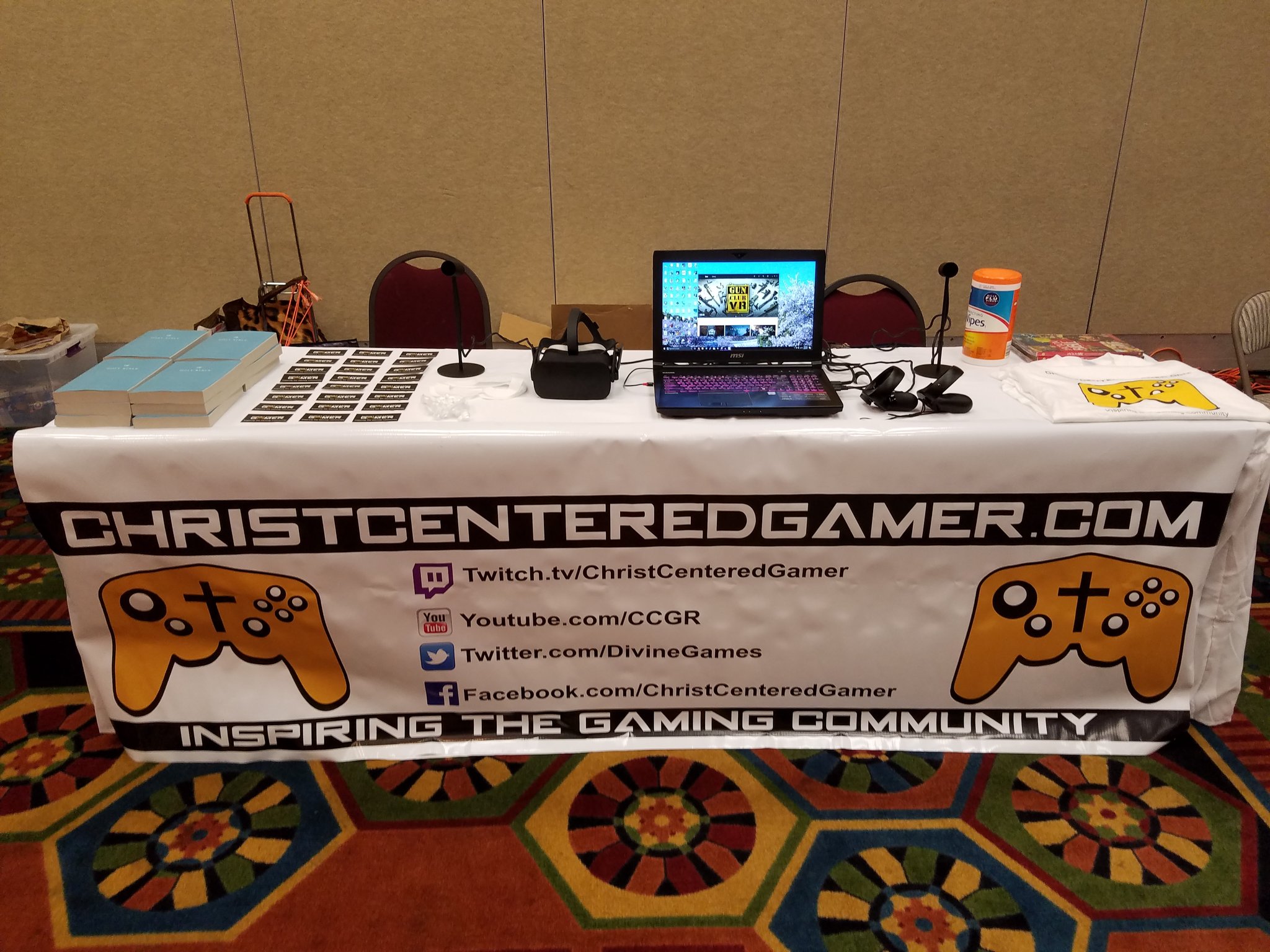 As many of you are aware, we've been preparing for various gaming conventions and finally attended our first one, Gamer Grace, this past weekend. It was quite an experience and we've learned a few things along the way.
The Oculus Rift was a hit and many people enjoyed their first VR experience with it. Watching a six-year-old think he was falling in space was priceless. I kept the headset sanitary by using mask covers and offering disposable shower caps if anyone was interested in head lice prevention. Our family dealt with head lice and it was a total nightmare. Only one person bothered with the shower cap. I'm open to suggestions on what to do with the leftover shower caps.
Setting up the Rift didn't take much time, so in the future I think a half hour of prep time should be sufficient for placing our tablecloth, Rift, business cards, t-shirts, and Bibles. We offered Bibles to people but didn't force them. The last thing I wanted to see was them in the garbage can. Although we couldn't give any away (didn't realize how hard this would be), we did sell an Action Bible. One thing we will add is a whiteboard to explain that the Bibles are free. I was thinking of writing this on our future whiteboard:
Free Bibles!
Great for:
Reading
Salvation
Changing lives
Bookshelves
Night stands
We had one mother consider buying a t-shirt but her son seemed rather indifferent about it so it never happened. We do have some shirts available online if anyone wants one. Hopefully, more people are interested at future conventions.
Speaking of more people, that's what Gamer Grace REALLY NEEDED. During our three-day stay we probably had about seventy-five visitors at our booth, total. It wasn't just us either. There was some amazing artwork, leather crafting, and gaming accessory exhibits that probably didn't break even from their booth cost. We did get to meet some nice game developers and followed each other on Twitter. Those were probably my only new followers from this convention.
It's a real shame since Gamer Grace had lot going for it. Unlimited and coinless arcade games, interesting panelists and competitions, board/card games, crafts, and foam weapon/armor battles. My kids plus their friend had a blast and I rarely saw them. My husband and I enjoyed playing some In The Groove and Teenage Mutant Ninja Turtles arcade games. My son was really happy to meet one of the creators of Terreria, one of his favorite video games.
Other than the Rocket League tournament, the multiple Xbox Ones sat untouched. Many of the vendors, us included, played on our mobile hand held devices. The Microsoft rep was knitting! I managed to get some good play time in for some upcoming handheld game reviews.
Gamer Grace was a learning experience for sure. I won't mind attending as a patron if they do it again in the future. To consider it as a vendor I'll need to know specifics on their game plan on getting the word out next time around. I look forward to better results at our future exhibits!