Game Info:
Magicka Marshlands
Developed By: Arrowhead Studios
Published By: Paradox Interactive
Release Date: April 26th, 2011
Available On: PC
ESRB Rating: Teen
Genre: Satire Fantasy
Single/Multiplayer
Magicka (required to play)
Price: $1.99
Thank you Gamers Gate for giving us this game to review!
In April, 2011 Arrowhead Studios proposed two DLC packs and asked gamers to vote via facebook on which one to release for free and which one to charge for.  After the results came in, the Cavern DLC was released for free and Marshlands lists on Steam for $1.99.  Just like the Vietnam DLC, you don't need to own the DLC to play it, only the host needs it. This provides a good way to try it out before buying it.
There is no story or objectives to complete in this expansion.  Your goal is to survive waves of enemies that spawn in various locations. There are two challenges with twenty waves each.  When I played with friends we survived about 12 rounds.
The swamp environment is new and there are some new enemies as well.  Some new enemies include chomping treasure chests and zombies. Many of the  enemies from the main game are brought back in vicious hordes.  Even Vlad the vampire stops by to try and kill you.
Highlights:
Strong Points: Reasonably priced; challenging gameplay
Weak Points: Stability issues
Moral Warnings: Magic use; violence and blood, which can be disabled
Nothing has changed when it comes to the spells and basic gameplay.  There are eight elements and you can combine up to five items at a time. The elements at your disposal are fire, water, ice, earth, arcane, life, lightning, and shield.  You can target spells on yourself, ahead of you, or the area of effect around you. Some of the elements cancel each other out while others are hazardous to your health if used at the wrong time. For example, don't use a lightning spell if you're dripping wet; dry yourself off with a fire spell first.
Spells can be learned by finding and reading spell books scattered throughout the level.  Most of the spells are learned by trial and error and when you add arcane to the mix it makes a very powerful beam of water, fire, or electricity.  Unlike Ghostbusters, crossing beams in this game can be a good thing!  When you add earth to lightning or ice you can make some powerful projectiles.  Earth can also make land mines that can heal or hurt depending on the elements you use.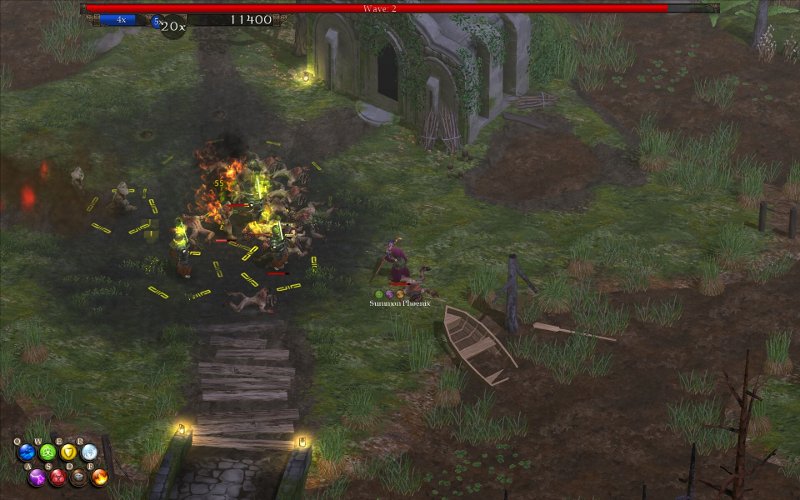 Score Breakdown:
Higher is better
(10/10 is perfect)
Game Score - 78%
Gameplay: 15/20
Graphics: 8/10
Sound: 9/10
Controls/Interface: 4/5
Stability: 3/5

Morality Score - 81%
Violence: 5.5/10
Language:10/10
Occult/Supernatural:5/10
Sexual Content: 10/10Cultural/Moral/Ethical: 10/10
Unsurprisingly, this game is still riddled with bugs and glitches. I still experienced a crash to desktop while I was hosting a game.
The graphics are colorful and the swampy backdrop is a nice change of scenery. There's not much new when it comes to the music or voice acting.  For $1.99, Magicka Marshlands doesn't offer much other than a new survival mode and scenery. If you were happy with the Caverns addition you'll definitely enjoy this.  If you don't like the survival mode, you may want to pass this DLC up.