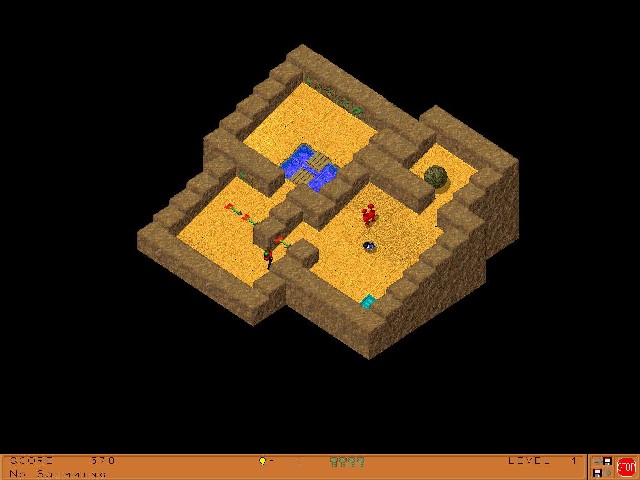 Rich Diamond is an amazingly challenging, as well as very fun puzzle game in which you take the role of Rich Diamond. You must maneuver around many obstacles like boulders, arrows and lava. Every time that you move you may trigger an arrow to shoot or a boulder to release. There is quite a level of strategy in this game, since, for example, if you are trapped in a circle of lava, you can push a bolder in it to get across, but if you try pushing a wooden box in it, it will just burn up. The same type of philosophy goes for water and other terrains.
About the developer
Core Concepts, the developer of Rich Diamond, is a company that has developed this one game so far. The quality of this game is so high, I would definitely consider buying future games from them. Keep up the great work, Core Concepts!
Graphics
The visuals are somewhat reminiscent of a Roller Coaster Tycoon game; it is isometric (meaning that the images are specially designed to give off a 3D effect, though it is not). Although the graphics are nice and have clean visuals, it is somewhat dated. You should not need a very new graphics card to run this game.
Sound
All of the sounds in this game are high-quality. I was quite impressed of the ambient sound effects, since they all sounded so realistic. The music is also pretty good. You can have the music play from the hard drive (with music that comes on the game) or play a normal CD with it (i.e. in your CD-ROM drive) and it will play while you are in the game. If you buy the CD from them, it would play in that mode.
Appropriateness
From a Christian standpoint, there is nothing objectionable found within this game.
Bugs/Final word
The game held up nicely on my Windows XP machine, with the exception that I could not find the version key to unlock the full version of the game. But CCGR was able to unlock hers. Speaking of the full version, it contains 80+ levels, a level editor, and more. To download the full version is $16.95. Or, to have a CD sent to you, it will be $19.95. You can even download additional levels for $7.95 apiece. At these prices, it really isn?t a bad buy. I would highly recommend Rich Diamond to any puzzle game aficionado.
Final Ratings
Gameplay: 10/10 Graphics: 7/10 Sound: 8/10 Appropriateness: 10/10 Bugs: 9/10
Overall 88%