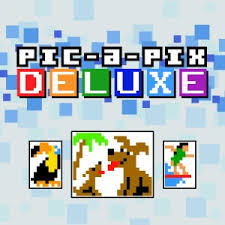 Game Info:
Pic-a-Pix Deluxe
Developed By: Lightwood Games
Published By: Lightwood Games
Released: Jan 04, 2018
Available On: 3ds, Nintendo Switch, Wii U
Genre: Puzzles, Multiplayer, Party, Education
ESRB Rating: Everyone for Digital Purchases
Number of Players: up to 4 Players
Price: $7.99
Thank you to Lightwood Games for giving me a review copy!
Picross games have always been one of my favorite games to play. I love the puzzles, that you use logic to solve them (no guessing), and seeing the picture after I have solved a puzzle. On the Nintendo Switch there is only one other game called PICROSS, which has the same type of puzzles. I am glad that another developer took a shot at making this puzzle, picture type of game. Pic-a-Pix Deluxe was released on the WII U, and 3ds beforehand. Now the game makes its way to the Nintendo Switch with some extra features and all new puzzles.
The core game is to fill in the correct pixels using the clues along the vertical and horizontal columns. You will use your controller to select what color and where to fill in that color. There are numbers lined vertically and horizontally that give hints to find exactly where to fill in a pixel. A cool feature in the Switch version is that you can play the game with up to four people! This adds to the fun, as having your kids help fill in the pixels, and helping solve the puzzles, adds a new dynamic, rather than just figuring it out yourself. In fact, most of the puzzles I solved, I wanted the help of my family as we enjoyed trying to guess what the picture would be.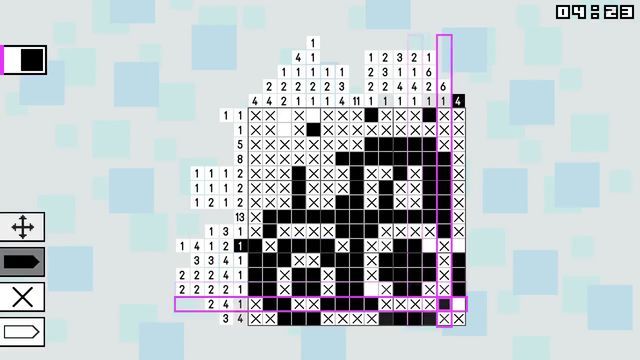 Highlights:
Strong Points: Easy pick up and play, lots of fun puzzles to solve
Weak Points: In app purchases to get more puzzles!
Moral Warnings: Nothing here!
There are a 150 color puzzles and it comes with an add on pack of another 150 black and white puzzles. They range from easy, like a 5x5 grid puzzle, up to a 35x25 grid puzzle. The difficulty curve is excellent as it provides the right challenge at the right time. You never really feel that you cannot complete a level. If you get stuck you can check if you have errors and then the game will remove them for you. Using that feature means you will not earn a gold medal on the puzzle, as you got some help. You can always redo the puzzle without help to earn that gold medal. Each puzzle is timed and will record your best time. When the correct pixels are filled in then the corresponding clues are blanked out. This helps you stay focused and make sure you're doing the puzzle correctly.
There were no glitches that I experienced, and it looked good whether it was docked (playing on the T.V.) or in handheld mode. You can also use the touch screen on the Switch to fill in the puzzle if you do not want to use the controller. I recommend on the huge, 35x25 puzzles, to play on your T.V., as it will give you more screen to see and you will not have to zoom all over the place.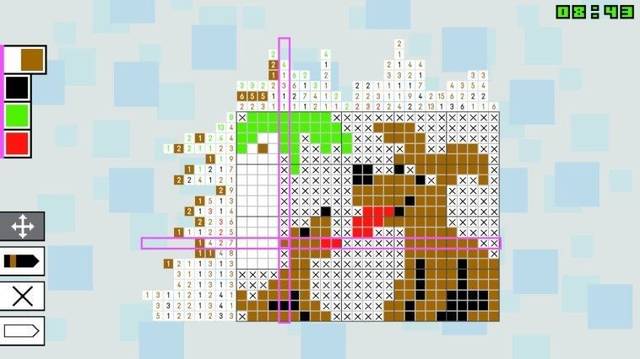 Score Breakdown:
Higher is better
(10/10 is perfect)
Game Score - 78%
Gameplay - 17/20
Graphics - 6/10
Sound - 6/10
Stability - 5/5
Controls - 5/5

Morality Score - 100%
Violence - 10/10
Language - 10/10
Sexual Content - 10/10
Occult/Supernatural - 10/10
Cultural/Moral/Ethical - 10/10
The graphics use pixel art, so do not expect the pictures to look like they do in real life. You can usually recognize what the picture is before they label it. The chiptune music fits with the pixel art, though I felt that it could have used more songs, as I believe there is only one right now. The developer also added in a save mode, so if you're in the middle of a puzzle and must stop, you can save your progress, which is a great feature. There will also be more puzzles added, as DLC. On the Switch you must enter the password to access the eShop, so you don't have to worry about kids randomly purchasing puzzle packs.
Pic-a-Pix is a good picture, puzzle game. I wish there were more puzzles out of the box, because I really enjoy this type of puzzle game. It is an affordable game at only $7.99 for three hundred puzzles, with the promise of more to come.